STEVIE BOI
fall 2009


A snake to drape, glasses to veil a secret, illustrated skateboards...
In September 2009, US designer Steven C. Strawder presented his label Stevie Boi with a new line of artful sunglasses on his website and announced a new clothing line that will follow the same month on www.stevieboi.com.
On one of the designer's myspace pages - Stevie Boi is musician too, he writes: "Love me or hate me. I was born June 28th 1989. I was a miracle child!!! Augusta Georgia is my hometown."
On Stevie Boi's website stevieboi.com you can choose between three categories; one of them is accessories. There you find a huge (faked) snake to drape around your body or skateboards in the designer's designs. His glasses have a modern-baroque Italian-Venice style; such as they are veiling a secret.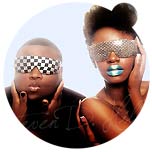 fig.: Sunglasses 'Checkboard' and 'Shine' by Stevie Boi, fall 2009.
Question: Are the Checkboard Shine or the Gold and Purple Shine glasses with one layer of lace? What material is lying over the glasses?
Stevie Boi: The glasses are fabricated with sequined fabric.
Question: Your designs are looking like masks such as it becomes obvious at the Black Shine. What's the idea behind your creations?
Stevie Boi: The idea behind it is basically to stand out. When I got my designs patented I decided to branch off and do more with the glasses from the same design.
Question: What do you mean with 'glasses are at a 80% visibility for FYI'; what is FYI?
Stevie Boi: You can see out the glasses 80% compared to all other glasses were its 100%.
Question: When have you started to design glasses?
Stevie Boi: I started designing eyewear back in 2007. I debuted this line of eyewear in April and every since it has been getting lots of attention. I have had Lady Gaga, Beyoncé and Rihanna wear my shades.
Question: You are announcing that your apparel line will be online late September. What will you present?
Stevie Boi: In September I will finally release my new line of clothing. It's not t-shirts and boring novelties; its high end boutique like wear; going to be a very great add to my store. I will have hand bags, clutches and even full dress for all women.
Question: Is this your music and voice on the website Stevieboi.com? (Please tell something about your music activities – has it something to do with the style of your glasses?)
Stevie Boi: And yes, that's my music you hear on my page. You can listen more at myspace.com/stevieboimusic. I started recording music back in 2007 as well and I just added it to my page. The music is basically grime space and techno a category that I like to fit in.

Source: Original article with image on http://www.fashionoffice.org/design/2009/stevieboi9-2009.htm.


more fashion.at/mobile>
News from
May - July 2009
April - May 2009
Jan - March 2009
October - December 2008