THOMAS SABO
fall/winter 2009/10

Vienna Insight by Karin Sawetz, July 2009


What's the power of the black raven?
In July 2009, the German jewellery brand Thomas Sabo presented the new collections on occasion of a press day in Vienna. Although it was the hottest day of the year, journalists even from magazines that are rarely represented at such 'work events' appeared to signalize their interest in the trendy and affordable products of the jeweller.
Re-structured media & fashion business
The current worldwide situation restructures not only the media business such as discussed with other journalists on this evening in Vienna. Strategists prefer media that are countable and offer intelligent targeting for ads. The content's quality - if professional journalism or not - is especially online for most of the advertisers secondary; they are planning their campaigns in social media like Facebook or Myspace with the same costs like in Magazines or Daily Newspapers. This is a very cost-saving handicap of the internet for advertisers and so will the 'robots' deliver advertising further on to diverse media (journalistic or social) following semantics (keywords) without contentwise differentiation (pragmatics). One colleague meant that it is more profitable for a journalist today to write a sponsored book because it is forbidden by law (in Austria) to produce content paid by a company for an editorial media. The juridical reason is simple: the users should distinguish easily between advertising and editorial content. Bloggers or tweeters do not fall under this law.

(PS: If you think that journalists get all the clothes and jewellery they write about as a donation is on the wrong way. There exists even for donations over a special amount a law. Editorial articles are not allowed to be bought by gifts either. Bloggers and blog 'sponsoring' companies are also under this aspect in a favored position.)
Simultaneously to this re-structuring in media, the fashion and beauty industry has learned - probably through the direct contact with customers online, how the user thinks about the products and what he or she expects.

So has each situation its good and bad consequences.
The good news are that 'throw-away' pieces are very rare in fall/winter 2009. The most important trend is to present pieces with luxurious appeal and good quality for an affordable price.
The collection's title is 'Theatre of Love'
Thomas Sabo has presented such a collection with classical and rock-gothic appeal. In fall/winter 2009, the leading theme for the sterling silver pieces for men, women and unisex is 'Theatre of Love'.
The idea behind the title is that theatre stands for desire, fantasy and conquering time, epochs and styles, even on a relatively small stage. On Thomas Sabo's stage for FW9/10, different style such as street, retro, or classic can be delivered with jewellery from one collection. For the first time in the company's history, Thomas Sabo shows watches for him, her and unisex.
One of the jewellery unisex lines is entitled 'Black Raven'. It represents the signature design of Thomas Sabo best: the 'Rebel at Heart' in rock-gothic style revives each year in brand new designs.
The power animal 'Black Raven'

It is said that the raven and crow (both are from the same family 'corvus') are the most intelligent birds which can even learn to speak. Since ancient times the raven was a mystical animal that exists between the worlds - the real and the supernatural. Such as any situation can be interpreted good or bad, every culture has its own attributions for the mystical bird. But one characteristic is common: it is a power animal.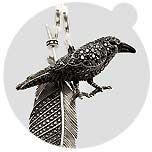 fig.: Thomas Sabo fall/winter 2009/10. 'Black Raven' for men and women.
Thomas Sabo's 'Black Raven' is a homage to the American writer Edgar Allan Poe, whose 200 anniversary is celebrated this year www.thomassabo.com.

Watch the video: 'The Raven' by Edgar Allan Poe, interpreted by Christopher Walken, illustrations by Gustave Dore http://www.youtube.com/watch?v=VFy7XidbnKw.



Karin Sawetz is journalist, media researcher and fashion scientist (Mag. Dr. phil.). > sawetz.com


Source: Original article with images and video on http://www.fashionoffice.org/collections/2009/thomassabo8-2009.htm.


more fashion.at/mobile>
News from
May - July 2009
April - May 2009
Jan - March 2009
October - December 2008