TOPSHOP
fall/winter 2009/10
Setting trends online
In mid-August 2009, the London headquartered edgy retailer 'Topshop' presented the 11th collection by Kate Moss. From 27 Aug 2009 on, the 60/70/80ies rock'n'roll vintage-glam fall/winter 2009/10 outfits will be available in countries around the globe on the award winning online shop topshop.com.
Preview to Kate Moss' collection
In the meanwhile you can preview the romantic tea dresses in antique floral prints on the website of the shop by signing up to Topshop's Style Notes, a special service to receive news on the latest arrivals and tips how to style up for the season.
Topshops fall/winter 2009/10 styles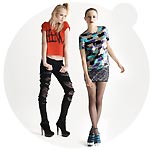 Already 'open' for the public without the need to sign in is the entry to the new collections for fall/winter 2009/10. The punk-gothic 'Horror Girl' (fig.: left) with shirts illustrated with bleeding poppies and ripped jeans like from a vampire who has slept for 200 years in a coffin with rats, the 80ies inspired 'Manhattan Dolls' (fig.: right) in night-time Denver-Clan glam glitter outfits in silver, magenta and turquoise, the 'Highland Fling' presents tartan and Fair Isle prints, and the bohemian 60ies Zeitgeist style 'Marianne' with Eastern Europe touch.
About Topshop
The trendsetting store chain (founded 1964) has over 400 stores worldwide (300 in UK). Topshop is well-known for presenting affordable British high fashion such as Alexander McQueen or Matthew Williamson. In 2001, the retailer created the own in-house design collection 'Unique' which is since September 2005 on schedule during London Fashion Week. Since 2002, Topshop's New Generation scheme shows young British design talents like Christopher Kane, Danielle Scutt and Marios Schwab. Topshop received many awards like InStyle Shopping Awards (2008), eSuperbrands (2006), Cool Brands (2006), to name a few.
Topshop's charity partners are Traid (Textile Recycling for Aid and International Development www.traid.org.uk) or Fashion Targets Breast Cancer (established in 1990 by Ralph Lauren www.targetbreastcancer.org.uk). In 2006 Topshop has opened the online store www.topshop.com.
Video: Behind the scenes at the Topshop Fall/Winter 2009/10 shooting; Topshop Video Podcast Issue 55 (http://www.youtube.com/watch?v=7vZw-RbmOEc). On the podcast channel you can find London Fashion Week videos, interviews, behind the scenes movies etc topshoppodcast.com.

Source: Original article with images and video on http://www.fashionoffice.org/collections/2009/topshop8-2009.htm.


more fashion.at/mobile>
News from
May - July 2009
April - May 2009
Jan - March 2009
October - December 2008