Scent of a Traveler
spring/summer 2009

By Caroline Zerrini. The lifestyle editor reports from Dubai; www.textappeal.us.


Haute fragrance houses are turning their nose to travel for inspiration. It's all about enchanting you along a magical journey to capture the scent of a destination and drive you along an emotive feel.
Maybe you've been there, and you can identify. Maybe you haven't but long to go.
Spray on an adventure ride. Some of the newest fragrances hark along transporting your senses. A special scent can change your entire atmosphere, so cutting edge brands are using novel atmosphere to base their notes.
Chanel takes us along a complete travelogue. For its latest No.5 fragrance, the House mesmerizes with a short film titled, Train de Nuit, starring Audrey Tautou. Directed by Jean-Pierre Jeunet, the film is a tale of chance and fate – a brief encounter between a man and a woman traveling to Istanbul on the Orient Express night train with an intertwining of two destinies that will be brought together by a scent like no other. The film reveals the intriguing world of Chanel N° 5 and the power of its seduction.

Every summer, Dior mixes travel into its fragrances. The House's Escales De Dior (Dior Ports of Call) collection alludes to experiences near and far. The collection is inspired from the style of the Cruise Collections, in which summer is the never-ending season and where the sun shines, even in winter, leading the way to foreign lands.
Escale a Pondichery is the newest release following last summer's Escale a Portofino. While a Mediterranean and citrus breeze fluttered over Portofino, Pondichery celebrates India's former French colony. On a trip to Kerala in search of beautiful raw materials for Christian Dior Parfums, François Demachy was inspired by the country's exceptional ingredients: jasmine, sandalwood and tea, with its flourishing plantations and varieties on the Indian peninsula.
This is the second major perfume named after an Indian city, the other beingBoucheron's Jaipur.

City holidays also come alive with Issey Miyake Parfums. The 2009 Summer Fragrances for him and her were inspired by an urban landscape bathed in summer sunlight. The fragrances are set in an unusual garden where life explodes with color amidst the geometrical forms of a city, with plays of light and reflections on glass facades.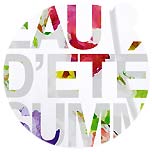 fig.: Issey Miyake, summer 2009. Designer Philippe Galowich, who created Issey Miyake's summer 2009 editions, chose to interpret city life through colorful, structured graphics. The capital letters on the transparent bottles exhibit the hues of the garden, while the white boxes tell a poetic architectural story.
Finally, a Garden of Eden bursts with Jean Paul Gaultier. All summer long, Ma Dame, Classique and Le Male are the undisputed stars in a fresh, luminous paradise. Inspired by Gaultier's Spring/Summer ready-to-wear collection, the fragrance bottles invite us into a fabulous Garden of Eden where abundant fauna and surprisingly luxuriant flora intermingle.
Enchanting moments in a land of adventure play footsie with the exoticism and scent of some our favorite brands. The nose will have it: adventure wafts through the air. No passport required. Just spray.


Author Caroline Zerrini is living in Dubai. The lifestyle editor has extensive experience in creating and managing niche publications and cutting edge content. Caroline has spearheaded Text Appeal, an editorial consultancy service for editors and publishers.

Source: Original article with videos and image on http://www.beautyme.com/fragrance/2009/traveling6-2009.htm.


more fashion.at/mobile>
News from
April - May 2009
Jan - March 2009
October - December 2008