T-SHIRT SIGHT by Karin Sawetz, October 2011
Don't drink and ski
The crashing skier after making a 'Whiskey Slalom' is funny! I asked designer Brian Wood: "Have you intended to make a 'Don't drink and ski' t-shirt or did it just happen?"
Brian Wood: "It was very random. The designer we collaborated with has a very vintage Americana aesthetic and I wanted to mesh his style with our B Wood style. So I thought it would be a funny take on the vintage polo skier shirts but have the skier fallen and drunk. Plus I love whiskey. We added safety first as an ironic comical saying at the bottom."
In October 2011, New York based designer Brian Wood presented his newest project 'Avalanche Peak' in collaboration with Aarron Ginsberg of Ducksworth. The 1950s outdoor sport inspired pieces (t-shirts, crewnecks) premiered with photos and a video telling the story about the fictional ski lodge "'Avalanche Peak' in Woodlock, PA established in 3045". The pieces are available offline in stores in New York, Miami,... - and online on ProbusNYC.com.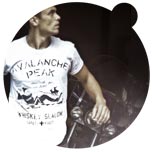 fig. original: 'B Wood x Ducksworth - Avalanche Peak' capsule collection, released in autumn 2011. Photos: Ashley Sky Walker.
Video: 'Avalanche Peak' short film for the collaborative 'B Wood x Ducksworth - Avalanche Peak' collection; shot by Ashley Sky Walker, edited by Tyvan Films, produced by Brian Wood.

Source: Original article with images and video on http://www.confashion.com/fw2011/brianwood10-2011.htm.


more fashion.at/mobile>


News from
September 2011
August 2011
July 2011
June 2011
May 2011
April 2011

subscribe
terms
imprint
(C) Sawetz, since 1996