10 November 2011 - Short Message
#Music: 'My Name is Carnival' by the British indie-psych-folk band Erland & The Carnival
The music of Erland & The Carnival remembers Minnelieds of the European Middle Ages! When Erland & The Carnival started in 2008, they were re-interpreting old Scottish and English folk songs and applied a contemporary indie-rock outfit to them. 'My Name is Carnival' is from the debut album 'Erland & The Carnival' (2010), recorded in Damon Albarns Studio 13.
Singer/guitarist Erland Cooper is accompanied by drummer David Nock (The Fireman, The Orb, The Cult) and multi-instrumentalist Simon Tong (The Verve, The Good, The Bad And The Queen, Blur, Gorillaz). Simon Tong says about the style of the latest album 'Nightingale' (released in March 2011): "Pentangle meets Ennio Morricone meets Love meets 13th Floor Elevators". The texts are mash-ups of old folk songs, political speeches, articles in daily newspapers, and poems by Leonhard Cohen or William Blake.
On 24 November, Erland & The Carnival will perform songs from the new album 'Nightingale' during the 'Blue Bird Festival' at Porgy & Bess in Vienna.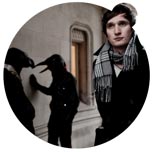 fig. original: 'Nightingale' campaign image showing singer/guitarist Erland Cooper and two men with bird heads (a raven and probably a falcon mask) symbolizing 'the carnivals'. Photo: Andy Willsher.
News from
October 2011
September 2011
August 2011
July 2011
June 2011
May 2011
April 2011

subscribe
terms
imprint
(C) Sawetz, since 1996