Shadowy day look
Fashionoffice likes the shadowy, cold winter and its fashion and beauty looks. Such as the pieces on this page which are made by pioneering spirits for the ones who are with both feet on the ground and ready to step into adventures - even when the destination leads through the darkest clouds of a cold day.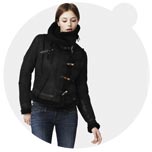 fig. original: Sheepskin jacket from the 'Outerwear'-collection 2011/12 by Levi's, limited edition. Levi's was inspired by sailors and forestry workers.
fig. original left: Eye shadow in four night-colors (metallic green, blue, and grey, and matt black) from the 'Night Flight' collection winter 2011 by Guerlain which is originally created for late evening and night outfits, but fits perfectly for shadowy days as well. Comes into shops in November.
The collection by Creative Director Olivier Échaudemaison is inspired by the perfume 'Vol De Nuit'. The perfume was created 1933 by Jacques Guerlain on occasion of the foundation of the flight company Air France and pays homage to the novel 'Vol De Nuit' by his friend Antoine de Saint-Exupéry. 'Vol De Nuit' stands for brave women like aviator Hélène Boucher and the era of a new mobility. In the same year, the novel about the commercialization of aviation was adapted for the movie 'Night Flight' starring actors like Myrna Loy and Clark Gable who is navigating through the dark clouds of the night...
middle: Bracelet (gold coin, diamonds, silver elements, leather) which can be used as a necklace too by Vienna based jeweller 'der große bär'; seen in October 2011.
right: Lambskin cap from the fall/winter 2011/12 collection by UGG.
fig. original: 'Vol De Nuit' perfume (chypre, vanilla, iris) powder (light rosé with silver, green-blue metallic effects) for face, body (and hair) by Guerlain, winter look 2011. The flacon is a modern version of the original bottle which was the first flacon made of metal and glass. The 'Vol De Nuit' flacon shows the propeller and the wings of an airplane.

Source: Original article with images on http://www.fashionoffice.org/collections/2011/fashionofficelikes10-2011-II.htm.


more fashion.at/mobile>


News from
September 2011
August 2011
July 2011
June 2011
May 2011
April 2011

subscribe
terms
imprint
(C) Sawetz, since 1996