Surprise!
On 12 July 2011, the illustration 'Surprise' by Yan Wei had been presented in Shanghai as one of five works by Chinese artists of Fiat's 'First Edition' on 100 numbered art cars of the model 'Fiat 500'.
Yan Wei is inspired by her childhood and the city Beijing, where she lives - a city that changes so fast that it can be explored daily new as she says in an interview. A main character in her comic-art is a dangerous looking little girl you don't want to meet alone in a dark street. For Fiat she has created a friendly smirking whale splashing out of a wave and named it 'Surprise!'.
Yan Wei (aka Kokomoo) collaborated already with jeans label Levi's and publishes on her website images showing her as a model for example in sport shoes by Nike kokomoo.blogbus.com/
logs/102238304.html.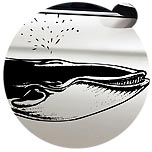 fig. original: Artwork by Yan Wei on the pearly-white Fiat 500 (red leather interior). The 'First Edition' was presented on 12 July in Shanghai on occasion of the car's market launch in China on 15 September 2011.
"The 'First Edition' is a special offer exclusively created for Chinese customers and represents a symbol that joins our two cultures. Not by chance, we asked five young Chinese artists to interpret the relationship between our two countries in a creative, original manner, and to fashion a tribute for the launch of the 500 in China." says Lorenzo Sistino, Fiat Group Automobiles Executive Vice President International Operations, about the cooperation with the artists and the Italian brand.


Find out more about Yan Wei on vimeo.com/9522816 where the Shanghai based magazine about Chinese art, fashion, culture and artist agency EDGE.Neocha.com publishes an interview; Yan Wei speaks about her inspirations and the influence of Beijing on her art.


Source: Original article with images on http://www.fashionoffice.org/motor/2011/fiat7-2011.htm.


more fashion.at/mobile>
News from
June 2011
May 2011
April 2011

subscribe
terms
imprint
(C) Sawetz, since 1996