WEBSIGHT by Karin Sawetz, November 2011

A shoe/sport collaboration's 'monster'

Funny intro on geox.com/redbullracing where a foaming 'monster' welcomes the visitor! The virtual creature remembers the breathing sole of the Italian label Geox and references the shoe brand's collaboration with the Formula 1 Red Bull Racing Team. The collaboration was extended in October 2011 to the end of 2013.


The funny intro leads the visitor to videos such as 'Behind The Scenes At The Geox Shoot' which shows double World Champion Sebastian Vettel as the face of the new campaign FW2011/12 for the 'Amphibiox'-line by Geox.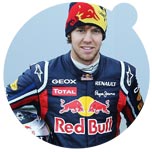 fig. original: Formula 1 double World Champion Sebastian Vettel (the youngest in F1 history), Geox founder Mario Moretti Polegato (presenting the Red Bull Racing RB7), Formula One driver Mark Webber. The photo was captured at the Ricardo Tormo Circuit on 1 February 2011 in Valencia, Spain. Photo: Paul Gilham; (C) 2011 Getty Images.
Since March 2011, Geox-Red Bull Racing shoe collections are available. I can remember that it started with pieces for women, men and kids. Now, only men and kids shoes are online; even in SS2012 only men and kids can enjoy the sportive Geox-Red Bull Racing collection (release in March 2012). But the exclusion could be a joy for women too: a good argument is given to men to go with the kids 'only' on shoe shopping tour. And now I even understand the 'monster' on geox.com/redbullracing better - it is boyish.
Source: Original article with image and video on http://www.fashionoffice.org/culture/2011/geoxredbull11-2011.htm.

more fashion.at/mobile>

News from
October 2011
September 2011
August 2011
July 2011
June 2011
May 2011
April 2011

subscribe
terms
imprint
(C) Sawetz, since 1996