Art and fashion?

On 28 November 2011, Ingried Brugger (director of the exhibition space Bank Austria Kunstforum) will present her fashion collection 'Rosenschwarz' at the Odeon Theater in Vienna. It's the second collection of the art director where she discusses fashion and art.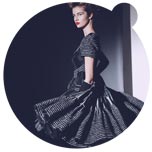 fig. original: Dress from the collection 'Rosenschwarz' by Ingried Brugger, FW2011/12. Photo: (C) leisuregroup.at/Rafaela Pröll.

Ingried Brugger is motivated for her fashion activities by the question about the differences between fashion and art. As director of the Bank Austria Kunstforum she is constantly involved into trends and theories of the art world where she has met one position which defines fashion as short-living creative output reflecting only the presence without any 'storyline' from the past or into future. This cultural theory offers even a definition for art which centers in its memory performance and reference function of creative outputs inside the art system.
Ingried Brugger understands the relationship between fashion and art as reciprocal or with other words: art and fashion influence each other interactively.
Ingried Brugger premiered as fashion designer in autumn 2010 with pieces inspired by Frida Kahlo on occasion of a retrospective about the Mexican painter at the Bank Austria Kunstforum.
Her new collection 'Rosenschwarz' (could be translated as 'Roses' Black') is a wearable discussion of Austria's cultural identity made of the memory of the country's heritage (expressed with the typical form of the rural dress 'Tracht') and contemporary Zeitgeist, province and city lifestyle, nationality and the growing internationality. The result of Ingried Brugger's discussion is a collection which shows the memory performance and reference function of fashion.
Source: Original article with image on http://www.fashionoffice.org/culture/2011/ingriedbrugger11-2011.htm.

more fashion.at/mobile>

News from
October 2011
September 2011
August 2011
July 2011
June 2011
May 2011
April 2011

subscribe
terms
imprint
(C) Sawetz, since 1996