Signature designs seen in Indonesia
...on 13 November at the Jakarta Fashion Week 2012 which runs from 12 to 18 November 2011. (More about the opening of the Jakarta Fashion Week on 12 November on fashion.at/mobile/2011/bernardchandran11-2011.htm.)
There is the signature Paris couture-style and the distinctive British tailor-fashion; while Berlin stands for puristic designs and New York for elegant ready-to-wear. In Jakarta, the structure and prints of lightweight (batik) fabrics, mixed in contrast, draped, layered like 3-dimensional painted installations are defining a style which hasn't received until yet a 'stamp' in the fashion world like Paris, London, New York, Berlin - but the 'stamp' will reference the country's textile heritage, such as all 'stamps' are derived from the history of a culture.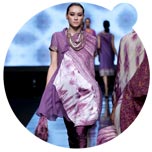 fig. original left: Lilac colored slim trousers in Capri style with layered dress-top partly made of transparent fabric with decoration in gold on the seams of the short sleeves and non-transparent fabric with wild violet-white batik dying by Carmanita, who is born into a traditional batik making family in central Java and belongs to the Indonesian Fashion Designers Council.
fig. right: Contrasting fabric mix: the yellow, pink, lilac, green flower print fabric is applied like a loose veil over a grey semi-transparent dress with geometrical small pattern. The elegant dress is designed by Hutama Adhi for the label 'Danar' by the Indonesian batik producer Danar Hadi. Catwalk views during Jakarta Fashion Week 2012 at Pacific Place on 13 November 2011. Photos: Irvan Arryawan/Feminagroup.
fig. original left: Elegant design by Oscar Lawalata for Danar Hadi. The designer's signature is the creation of couture out of the Indonesian's textile culture. Photo: Dachri Megantara/Feminagroup.
fig.: right: Evening dress with geometrical zip-applicaion on an action-painting alike print by Bangkok (Thailand) based designer Yod Yoko. The designer has received awards like the Supema Design 1st Prize (2009, US); Cotton USA Design Challenge 1st Prize (2008)... Photo by Dhany Indrianto/Feminagroup.
Source: Original article with images on http://www.fashionoffice.org/collections/2011/jakartafashionweek11-2011.htm.

more fashion.at/mobile>

News from
October 2011
September 2011
August 2011
July 2011
June 2011
May 2011
April 2011

subscribe
terms
imprint
(C) Sawetz, since 1996