31 October 2011 - Short Message
#Online review by #Fashionoffice publisher Karin Sawetz: Just4Men.de
Just received two packages - both with my name on it but the badge 'Just4Men'. This made me inquisitive. Who has sent the packages? Who are they?

Inside each package was a second one, made of classical brown carton with silver ribbon carrying the anthracite writing of a web address - very elegant. The gifts come from a new online shop on www.just4men.de! Alongside to the extensive, virtual store with comfortable and easy navigation, the user finds there additional information about the more than 200 labels and designers, a trend guide, styling hints for selected situations...
Responsible for the magazine on www.just4men.de is Playboy Germany. You can read there even beauty articles such as about lip care for him which refers to the needs of women. The text, written by two women, begins with the words "Küssen verboten!" which could be translated as 'Don't kiss!' just4men.de/magazin/artikel/detail/lippenpflege.html.
And yes - the two packages really contained presents which are just for men. But in fashion they have style.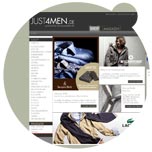 fig.: Screenshot Just4Men.de
News from
September 2011
August 2011
July 2011
June 2011
May 2011
April 2011

subscribe
terms
imprint
(C) Sawetz, since 1996