29 October 2011 - Short Message
#Music: Lateef The Truthspeaker shares 'Truth At Sea' 40min tape mixed by DJ Sharp, produced by Somehow At Sea
...featuring Fred Armisen, Slug of Atmosphere, Trackademicks, Josie Stingray, Zach Rogue, Lyrics Born (track listing and Soundcloud link below).
"Social consciousness is integral to all my work. It informs my baseline moral values, politics and my attitude toward propaganda. A lot of those values are out of favor and not as popular as they once were but I'm not afraid to tackle more difficult subject matter or stuff other people may not feel comfortable speaking on." says Lateef, the son of two Black Panthers, about his newest music work 'FireWire' which comes out on 8 November. On the new 13 tracks album 'FireWire', Lateef the Truthspeaker (singer, rapper, co-founder of SoleSides, which became later Quannum - celebrates 2012 its 20th anniversary...) connects musicians like Chief Xcel, DJ Shadow, Dan the Automator. It can be pre-ordered on itunes.apple.com/us/preorder/firewire/id467913960.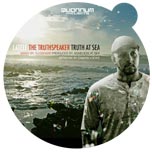 fig. original: Artwork by Damon Locks

Lateef's 'Truth At Seat' - track listing (soundcloud.com/quannumprojects/truthatsea/s-1JjSy)
1. What Would You Say? feat. Josie Stingray & Trackademiks of Honor Roll
2. New Wild West
3. On My Side feat. Slug of Atmosphere, Cuts by DJ DSharp (Somehow @ Sea Remix)
4. Akiba Hero (Somehow @ Sea Remix)
5. Night Caller
6. Long Enough
7. Your Truth
8. Higher
9. Are You With Me
10. The Real Deal
11. Shine For Me
12. Too Late
13. Mutual Acquaintances
14. First Ring
15. Stop Pretending feat. Zach Rogue of Rogue Wave
16. Oakland (Somehow @ Sea Townish Remix)
17. Socialite
18. Trust In You
News from
September 2011
August 2011
July 2011
June 2011
May 2011
April 2011

subscribe
terms
imprint
(C) Sawetz, since 1996