Fashion 2012 made of Korean architecture, time and space
The presentation of the new spring/summer 2012 collection by Korean designer Lie Sang Bong - he counts to Asia's most important designers, begins with a performance of electro-street-robo-dancers in neon-colored suits to the song 'Die Roboter' by the German computer music pioneers 'Kraftwerk'. The presentation of Lie Sang Bong SS2012 was held on 1 October 2011 at the Hotel Westin in Paris. (Video: Lie Sang Bong SS2012 presentation in Paris.)
The colorful patterns look like abstractions of flowers and green ranking plants. They are inspired by the traditional Korean architectural elements 'Dancheong'. Dancheong is the name for the decorative painting on wooden buildings; the painting has an additional practical use as it protects the wood from the climate.
Lie Sang Bong applies the colorful patterns on coats with elegantly placed transparent parts which become visible on a second view such as on the photo below (left), or in reduced coloring but in a more intense interplay of transparencies and patterns in black and white on the picture right: the anatomy enhancing tights - they remember a figurative animal print representing a tiger, are combined to a transparent skirt with geometrical patterns and a corsage with floral abstractions. The collection pieces range from urban sportive parts over elegant day wear to experimental art-sculpture alike evening gowns made of laser-cut leather.
Lie Sang Bong SS2012 has attracted already magazines like Style.com which cites the designer who says that his aim is to connect with his fashion the past, the present and the future. Ideas about 'time and space' are Lie Sang Bong's inspiring sources for the creations made of futuristic high-tech materials and traditional elements.
'The Korea Times' points out that "A new feeling of neon is added to dancheong through the hands of Lie Sang-bong in this collection."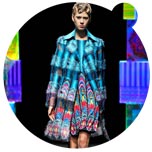 fig. original: Lie Sang Bong spring/summer 2012. The collection was presented on 9th September 2011 on occasion of the 'Concept Korea' show during New York Fashion Week (video-documentary), on 1 October during Paris Fashion Week at the Hotel Westin, and on 20 October 2011 during Seoul Fashion Week.

Source: Original article with images and video on http://www.confashion.com/ss2012/liesangbong11-2011.htm.


more fashion.at/mobile>


News from
October 2011
September 2011
August 2011
July 2011
June 2011
May 2011
April 2011

subscribe
terms
imprint
(C) Sawetz, since 1996