Explosive colors and the transformative power of re-cycling
On 17 September 2011, Spanish label Davidelfin presented the spring/summer 2012 under the title 'Katharsis' at the 54th edition of Cibeles Madrid
Fashion Week.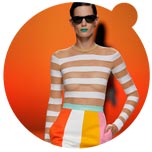 fig. original: The sportive, elegant pieces are inspired by fabric samples which are handed out by textile producers and remember the traditional color stripes used by illustrators. Davidelfin designer David Delfin's idea behind the collection is that a purification of life, liberation and transformation can be fulfilled by recycling such as the re-creation of pieces by cutting them into pieces and sewing them together again. With the bright reds, pinks, yellows, blues,... and white in a mix with transparent stretch, the Davidelfin SS2012 is one of the most colorful and body-conscious collections at the Madrid Fashion Week.

David Delfin started with painting and launched the fashion label Davidelfín in 2001 together with Bimba Bosé, Deborah Postigo, Gorka Postigo, and Diego Postigo. Daviddelfin has received several awards such as the GQ award for the 'Best Spanish Designer of the Year' (2009), the Men's Health magazine award (2007), the Marie Claire Fashion Award (2003)... and collaborated with labels like Dr. Martens (2010), Ford Focus Coupé Cabriolet (2008), Converse (2007)...
Video: On 18 September 2011, the Davidelfin designs inspired by the world of superheroes-comics for the bikes and overalls of the Repsol Honda Team premiered at the Motorland Aragon Grand Prix in Spain.

Source: Original article with images and video on http://www.confashion.com/ss2012/madridfashionweek9-2011b.htm.

more fashion.at/mobile>
News from
August 2011
July 2011
June 2011
May 2011
April 2011

subscribe
terms
imprint
(C) Sawetz, since 1996