Wild hunt
...is a theme in the European Alps; if it's the old tradition of the hunting 'Perchten' which should frighten the ones who are not 'properly' or horned animals like deers on women's sportive clothes. fig. original: a 'Percht' in fur and with horned mask and a woman in fashion by maloja, FW2011/12.
The history of the 'Perchten' begins with a legend about a woman who stands for a 'clean house'. There exist assumptions that the Perchten are representations of a female goddess from the ancient Celtic nature religion. Today, the Perchten are mainly associated with the male 'Krampus' - even under the fur and horn mask are mostly young men who are frightening people around the days of the New Year (Dec/Jan) in many regions of the European Alps. In the last seasons, a new fashion was reported from the Alps: women began to costume as 'Perchten' and join the hunting 'demons'.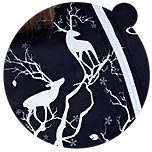 fig. detail - original: The images on this page are from the new 'Alp Appeal' catalogue FW2011/12 by maloja.
For this season, the maloja designers had been inspired by 1970s coloring for pieces with motifs from the Alps such as mountains, trees, deers... and combine them with checks - the most common pattern for table clothes in houses in these regions in Germany, Austria, Switzerland, and South Tyrol.

Not presented with a photo on this page, but very nice is another reference to the theme 'house' on t-shirts for biking, climbing or running: maloja has applied colorful prints inspired by the traditional paintings on wooden closets onto sportive t-shirts. "Here the exact copy of a traditional wood painting motive from a piece of antique furniture in our studio was applied to the front and back of this shirt design." You can view it on maloja.de/produkte/crown-1-2.html.


Source: Original article with images on http://www.fashionoffice.org/collections/2011/maloja7-2011.htm.


more fashion.at/mobile>
News from
June 2011
May 2011
April 2011

subscribe
terms
imprint
(C) Sawetz, since 1996