Colorful mobility
The pieces on this page are inspired by mobility and they are not available - yet.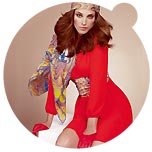 fig. original: Foulard in the color mix 'multi lagoon' and gloves that look like a second skin in 'tomato red' from the 'Adventures in Africa' collection by Roeckl, SS2012; come into stores in January 2012.
Munich based gloves, bags, and accessories label Roeckl (since 1839; delivered gloves for the Austrian Empress Sissi), reflects in this collection the geography of North Africa. The pieces are dyed in the colors of the snow of the Atlas Mountains, the steppes, sand dunes of the Sahara, and oases of the Sous Bain.
The patterns are inspired by nature (such as natural transformations of stones) and the culture of North Africa. Signature elements of the architecture of houses in Marrakech and Tanger are forming the scarves' color arrangements which remember partly tiles patterns, the metallic closures on doors are re-interpreted as functional equivalents on bags...
fig. original left: Sony Tablet P (runs Android Honeycomb, weight 372g) has the appeal of a magazine. The 5,5'' dual-screen (can be used separately or as one display) looks folded like a clutch (79x180x26mm). It has integrated cameras on the front- and backside and various apps such as Google Voice Search. The Sony Tablet P will be presented at IFA (Consumer Electronics trade show in Berlin, 2 - 7 September 2011); arrives on the market in November 2011.
fig. right: A selection of four designs by Sieger for the decor of the Wiesmann Roadster MF3 Final Edition (premiered 18 years ago). Designer Michael Sieger is known for his 'Color Collections'. For the last edition of the handmade MF3 Roadster, Sieger has created 18 different striped color combinations. The sport-racing-rally inspired car designs are accompanied by a range of fashion pieces like field jackets, scarves... The unique car models have names. On this page, the bright combinations 'Scuba Mobile', 'California Sunset', 'Mountain Mobile', 'Urban Jungle' are shown, but you can even find 'darker' creations like the 'Vampire' or the 'Panther'... on wiesmann.com/finaledition/. The first model of the Wiesmann Roadster MF3 Final Edition will be presented at the fair 'Maison et Objet' from 9 to 13 September 2011 in Paris. The next follows at the IAA (13 to 25 September in Frankfurt).
Source: Original article with images on http://www.fashionoffice.org/motor/2011/mobility9-2011.htm.

more fashion.at/mobile>
News from
August 2011
July 2011
June 2011
May 2011
April 2011

subscribe
terms
imprint
(C) Sawetz, since 1996