Pioneering female athletes in fashion
Oakley presents the current fall/winter snow sport fashion and accessories collection under the title 'Perform Beautifully' with female athletes like Olympic Gold Medal and World Championships winner US ski racer Lindsey Vonn and awarded American/Norwegian freestyle/backcountry skier Grete Eliassen.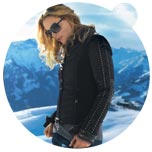 fig. original: Lindsey Vonn in the 'Perform Beautifully' campaign by Oakley. Lindsey Vonn is the first American woman who won an Olympic Gold Medal in Downhill. She is the most decorated American downhill skier of all time, male or female. Photo: Randi Berez.
fig. original: Eyewear 'Beckon' in crystal turquoise (frame) and black grey gradient glasses by Okaley, FW2011/12. Photo: (C) 2010 Craig Saruwatari.
Video from the Oakley 'Perform Beautifully' FW2011/12 campaign which portraits female athletes like freestyle and backcountry skier Grete Eliassen. Oakley publishes an interview with questions such as "How do you see yourself? Are you rebellious? Quiet? Weird? Why?" - Grete Eliassen answers: "Basically, I'm rebellious and weird. Sometimes I do things so differently then others, which may seem rebellious to me, but to others they just find me weird." With her movie project 'Say My Name' (available on iTunes) "...Grete pushed her own boundaries for women in all sports." oakley.com/sports/ski/athletes/33
Source: Original article with images and video on http://www.fashionoffice.org/collections/2011/oakley11-2011.htm.

more fashion.at/mobile>

News from
October 2011
September 2011
August 2011
July 2011
June 2011
May 2011
April 2011

subscribe
terms
imprint
(C) Sawetz, since 1996