Bollywood star for watch label
In late November 2011, the Swiss watch label Rado presented the new campaign with Bollywood actor Hrithik Roshan. The Indian superstar (born 1974 in Mumbai) appears in movies since the early 80s, has received several awards, is represented with a wax figure at Madame Tussauds in London and has started in 2011 his successful TV-reality show 'Just Dance' where dancers competed for the title 'Indian Dancer of the year (2011)'. The video on YouTube shows Hrithik Roshan in a performance with Ankan Sen, the winner of this year's 'Just Dance' in October 2011.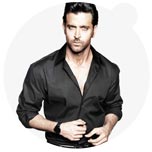 fig. original: Hrithik Roshan in the international Rado 'Unlimited Spirit' campaign, 2011. Photo: Bharat Sikka, (C) A+B. Hrithik Roshan has two thumbs (mostly hidden) on the right hand which became already part of one of his roles in a science fiction film.

Video: Behind the scenes with Hrithik Roshan for the Rado campaign. Hrithik Roshan counts to one of the most important actors from India in our time.
Source: Original article with image and video on http://www.fashionoffice.org/collections/2011/rado11-2011.htm.

more fashion.at/mobile>

News from
November 2011
October 2011
September 2011
August 2011
July 2011
June 2011
May 2011
April 2011

subscribe
terms
imprint
(C) Sawetz, since 1996