Warming rebels
While negotiators from 194 countries are still dealing around risks from global warming at the UN climate talks in Durban, South Africa (28 November to 9 December 2011; the talks were extended; Reuters), fashionistas have their own strategies to rebel against global warming.
Such as the British label Rapanui which has released on 9th December a new weather related eco clothing collection in collaboration with the Met Office, which is UK's National Weather Service.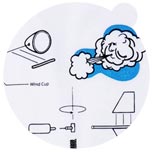 fig. original: The illustration by Mart Drake-Knight (co-founder and designer at Rapanui) on the t-shirt is inspired by the science and history of the Met Office. The eco-fabrics are sewn together in a wind powered factory.
"The Met Office is the international authority on climate change research, as well as being our national weather service that provides weather forecasts that we can trust and rely on," explains Mart Drake-Knight the Met Office and says about his design approach "...I think as well as being a nod to the Met Office's heritage and expertise, we managed to add a bit of 'Britishness' and humour to capture the spirit of 'the weather' as a subject."
The collection items with illustrations such cats and dogs falling out of a cloud are published on rapanuiclothing.com/metoffice.
Source: Original article with image on http://www.fashionoffice.org/collections/2011/rapanui12-2011.htm.

more fashion.at/mobile>

News from
November 2011
October 2011
September 2011
August 2011
July 2011
June 2011
May 2011
April 2011

subscribe
terms
imprint
(C) Sawetz, since 1996