28 November 2011 - Short Message
16 #dancers in #Moscow at the Red Bull BC One #breakdancing event in a circus

Roxrite (aka Omar Delgado, born in Mexico, living in US) - his name 'Roxrite' refers that he always 'rocked right', is the winner of the dance competition, the B-Boy World Championship 'Red Bull BC One', which was held this year on 26 Nov 2011 in the Old Moscow Circus.
"I've won almost every big battle in my life and this was the one title that was missing and that I wanted to win before I turn 30 next year." says 29 years old Roxrite, who has made it in 2007 and 2008 to the finals of Red Bull BC One.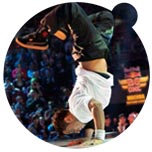 fig. original: Lil G (left) of Venezuela and Roxrite (right) USA perform during the Red Bull BC One breakdancing world finals at the Circus Nikulin in Moscow, Russian Federation on 26 November 2011. Photo: Denis Klero/Red Bull Content Pool.
Video 'Warm Up To The World Final' with introducing statements to the Red Bull BC One Moscow 2011 where 16 b-boys met in the Russian capital on 26 November.
News from
October 2011
September 2011
August 2011
July 2011
June 2011
May 2011
April 2011

subscribe
terms
imprint
(C) Sawetz, since 1996