Stage fashion at Rock in Rio
Sequins, block stripes and crystal decoration are three of the highlights seen on stages at the music festival 'Rock in Rio' which runs from 23, 24, 25 and 30 September, until 1 and 2 October in Rio de Janeiro. It is announced that Rock in Rio is the largest music and entertainment event in all history - 5 million people, 656 bands, more than 780 hours of music, broadcast to more than one billion TV viewers in 80 countries.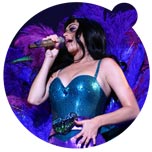 fig. original right: Katy Perry in a metallic-blue/lilac slim body suit with crystal decoration on 23 September on the 'Palco Mundo'. Photo: Carla Josephyne/Estacio, (C) Rock in Rio 2011 - Carla Josephyne/Estacio. The World Stage lineup of the following days include the Red Hot Chili Peppers, Metallica, Stevie Wonder...
fig. middle: Rihanna in a short, red/white striped top and black/white striped short pants with long train on 23 September on the World Stage, 'Palco Mundo', where the festival opened. Photo: Rogerio Resende/R2; (C) Rock in Rio 2011 + Rogerio Resende/R2. Rihanna was nominated in four categories for the 2011 Grammy awards. Alongside to her high-ranking Billboard's Hot 100 and Hot Dance music, she appears soon in the film 'Battleship' (release in 2012).
fig. left: The metallic sequins top with long sleeves combined to short pants with flower pattern made of colorful shiny sequins is worn by Mette Lindberg, the lead singer of The Asteroids Galaxy Tour (founded in Copenhagen, Denmark in 2007) on the 'Sunset Stage' in a collaborative gig with the Portuguese group 'The Gift' on 23 September 2011. Photo: Efraim Fernandes/Estacio; (C) Rock in Rio 2011 - Efraim Fernandes/Estacio. The Sunset Stage is the place where Rock in Rio invite musicians from all over to world and various genres (rock, pop, samba, heavy metal...) for creative meetings.

Extensive photo series from the festival, the musicians on rockinrio.com.br.

Source: Original article with images on http://www.fashionoffice.org/music/2011/rio9-2011.htm.


more fashion.at/mobile>


News from
August 2011
July 2011
June 2011
May 2011
April 2011

subscribe
terms
imprint
(C) Sawetz, since 1996