VIENNA INSIGHT by Karin Sawetz, September 2011
Shoes, shoes, shoes
On 29 September 2011, the United Nude store at the Herrengasse 6-8 in the 1st district of Vienna opened. I took some pictures of the owners of United Nude, the shoes and the models with shoes on their heads. The style of the label could be described as experimental architecture of shoes. Especially the heel design of some of the shoes are extraordinary, such as the boots with the label's signature 'Möbius'-heels (developed 2003) which is made of a looping band (image). Galahad Clark belongs to the famous 'Clark'-family with long tradition in shoemaking and Rem D Koolhaas is architect.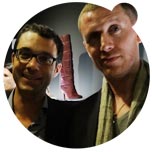 fig. original: Architecture of the United Nude store inside at the Herrengasse in Vienna. Shoemaker Galahad Clark and architect Rem D Koolhaas are the owners of the brand. United Nude has stores in Amsterdam, New York, Shanghai... Photos captured on 29 September 2011 at the store opening party.
fig. original: View into the store from outside through the glass front; two models in fashion by Tiberius with artificial hair style which includes shoes from the current fall/winter 2011/12 collection - the headwear with (left) the Papaya-red leather 'Eamz Pump'; the model right 'wears' the golden 'Ray Bootie Hi' made of cotton canvas and embroidery. The image right shows their United Nude-footwear.

Source: Original article with images on http://www.fashionoffice.org/collections/2011/unitednude9-2011.htm.


more fashion.at/mobile>


News from
August 2011
July 2011
June 2011
May 2011
April 2011

subscribe
terms
imprint
(C) Sawetz, since 1996