VIENNA FASHION WEEK INSIGHT by Karin Sawetz, September 2011

The limits of 'legal' design
On 16 September 2011, I visited the Vienna Fashion Week at the MuseumsQuartier (MQ). The catwalk shows are held in front of the MQ in a white tent; inside the historical building, designers are presenting their collections in showrooms; such as Dejan Dukic who is more an artist (painter, t-shirt creator) than a designer. He approaches clothing in pop-art style and reflects the world of 'labels'; Dejan told me that some of his pieces can not be sold because of legal reasons.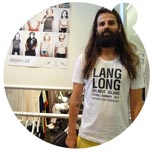 fig. original: Dejan Dukic wears a white t-shirt with the writing 'Lang Long Helmut Island...'. Dejan Dukic about his tattoo showing 'H&M' on his right arm: "I have lost a bet."

Video: Making-of 'Mirror Mirror on the Wall'-photo editorial with Dejan Dukic in the main role. The Vienna based monthly men's magazine 'Vangardist' (fashion, culture, art) publishes the online-edition as a mix of pages in 'print'-layout with integrated making-of videos. View the editorial on vangardist.com.



Source: Original article with image and video on http://www.fashionoffice.org/collections/2011/viennafashionweek9-2011.htm.


more fashion.at/mobile>

News from
August 2011
July 2011
June 2011
May 2011
April 2011

subscribe
terms
imprint

(C) Sawetz, since 1996