Wide skirts and sportive shoes
...mixed to t-shirts with handwriting in street wear look or sleeveless elegant evening-jacket-dresses. The comfortable, chic 'Olympic Style' was presented by Y-3 for spring/summer 2012 on 11 September 2011 in New York in front of celebrities like Samuel L. Jackson.
The collection references the Summer Olympic Games 2012 in London; inspiring sources for Yohji Yamamoto are British style, Olympic sport, and the esthetics of Londoner street wear; the result is the designers creation of the Y-3 'Olympic Style'.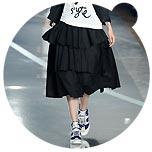 fig. original: Black skirts, white t-shirts with black handwriting, comfortable black jackets, sneakers, Y-3 spring/summer 2012. Catwalk view during Mercedes-Benz Fashion Week at 82 Mercer on 11 September 2011 in New York City. Photo: Fernanda Calfat/Getty Images for Y-3. (C) 2011 Getty Images.
fig. original: Sleeveless elegant evening-jacket-dress in night-grey with a green-red 'cul' made of tartan-tulle , Y-3 spring/summer 2012. Front row view on Orlando Magic center Dwight Howard, actors Samuel L. Jackson, Michael Pitt and Stacey Pitt during Mercedes-Benz Fashion Week at 82 Mercer on 11 September 2011 in New York City. Photo: Joe Kohen/Getty Images for Y-3. (C) 2011 Getty Images.


Source: Original article with images on http://www.fashionoffice.org/collections/2011/y3-9-2011.htm.


more fashion.at/mobile>
News from
August 2011
July 2011
June 2011
May 2011
April 2011

subscribe
terms
imprint
(C) Sawetz, since 1996