Advent in Vienna: joy boxes and pantaloons
The Austrian Advent markets haven't opened yet. At this time (preview on 11 November 2012), the organizers are preparing the huts and Christmas trees for the weeks around the new year.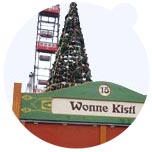 fig. original: The pictures show closed huts and a large Christmas tree in front of the ferris wheel called the 'Viennese giant wheel' with red gondolas. The Advent market at the giant wheel is located in the Viennese Prater which is one of the largest and oldest amusement parks in Europe. The Prater is also called 'Wurstelprater' - Pantaloon Prater.
Each of the huts carry an own name (in Viennese dialect) which refers not only culinary: the names can be read with the typical double meaning of the Viennese slang in combination with the Prater: left above the 'Hot Corner' will provide hot food, beverages and/or is the corner with the most traffic. The 'Kuchen Hüttl' means simply and only 'Cake Hut', 'Wonne Kistl' (image left below) means 'Joy Box' - here the double meaning is doubled and the fantasy has no boundaries in Viennese dialect, and 'Zum Hanswurst' could be translated as 'To the Clown' or 'To the Pantaloon' but means in combination with the Advent market that the 'Hanswurst'-hut will serve sausages ('Hans-sausages') and not a clown theatre - for last mentioned, the guests will cater themselves after too many fruit-punches with alcohol.
The 'Wintermarkt' in the Viennese Prater is open from 17 November 2012 until 6 January 2013. View photos how the Wintermarkt will look like on wintermarkt.at/fotos.
More about Advent in Vienna: Gourmet punching in Sigmund Freud Park.

Find a list of Viennese Advent markets (since the Middle Ages in the 13th century) on austria.info.
Source: Original article with images on http://www.fashionoffice.org/culture/2012/adventvienna11-2012.htm.

more fashion.at/mobile>

News from
October 2012
September 2012
August 2012
July 2012
June 2012
May 2012
April 2012
March 2012
February 2012
January 2012

subscribe
terms
imprint
(C) Sawetz, since 1996