10 most viewed Fashionoffice articles which carry information about Austrian fashion and culture in 2012
The overall statistics for 2012 show that users viewed mainly pages which carried once information about Inhorgenta, Academy of Art University School of Fashion in San Francisco, Puma's Lydia Bag by Heatherette, etc. (The detailed overall results will be published soon.)
The following ranking throws an exclusive light on the 10 most viewed articles which spread information about Austrian fashion and culture.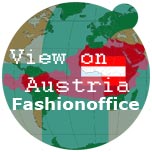 Source of the ranking 1 to 10: Google Analytics, 1 January - 14 December 2012
(Fashionoffice geography in November 2012: 144 countries; geography data from 1 January until 30 November 2012, Google Doubleclick, on fashionoffice.org/contact)
Teaser: Some of the information were promoted with teasers (image/text) on the inventory slots of Fashionoffice and via Trendletter.


1. 'Badebusserl' by the soap label Alles Seife
beautyme.com/skin/2012/greenbeautyfashion5-2012.htm
Teaser: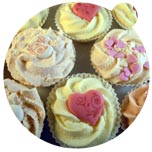 Bath-Kisses ...are bio-soaps by Alles Seife. One of the bath-cookies' scents is inspired by the Viennese coffee house tradition and smells after vanilla, marzipan, honey...
2. 'Colors for Spring' style tip with eardrops by Vienna based jeweller Skrein
beautyme.com/fragrance/2012/womenspringstyle4-2012.htm
3. Emilie Flöge and Wiener Werkstätte (exhibition from 13 Nov 2008 until 22 Feb 2009 at the Wien Museum Karlsplatz)
fashion.at/culture/2008/emiliefloege10-2008.htm
4. Caps by the Vorarlberg based label Capo for FW2012/13
fashion.at/collections/2012/capo1-2012.htm
Teaser:

Preview 2012/13 headwear
Bird feathers seen at the 'Forest Spirit' 2012/13 collection by Capo. Matching arm- and leg-warmers complement the 'flight-outfit'...
5. Men's and women's swimwear SS2012 by the Vorarlberg label Skiny
fashion.at/collections/2012/skiny3-2012.htm
Teaser: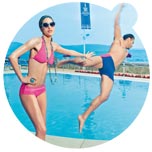 Bye, bye Captain! ...seen at the presentation of the new men's and women's swimwear under the title 'La Vita è Bella' by the Austrian bodywear label Skiny...
6. Austria's fashion heritage on a map (Goiserer, Ausseer Handdruck, Loden aus Schladming...)
fashion.at/culture/2012/austrianfashion3-2012.htm
Teaser: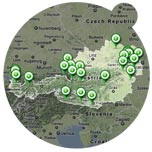 Austria's fashion heritage on a map Austria's fashion heritage is 'pointed' on the interactive map on Austria.info such as the textile technique Indigo printing in Burgenland, women's...
7. Exhibition of US artist Yvonne Rainer's work under the title 'Space, Body, Language' (photos, films, notebooks, dance scores, scripts...) from 4 February to 9 April 2012 at the KUB (Kunsthaus Bregenz) in Austria
fashion.at/culture/2012/yvonnerainer1-2012.htm
Teaser: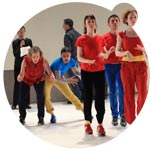 Experiencing the body through media Football players (Pelé) and their moves, internet technologies and old movies (Fred Astaire) are sources for Yvonne Rainer...
8. Underwear of a countess who lived in the castle Schloss Lengberg in East Tyrol
fashion.at/collections/2012/intimissimi7-2012.htm
9. Bio-breakfast style by Chef de Cuisine Paul Ivic at the Viennese restaurant Tian
beautyme.com/skin/2012/menspringstyle2-2012.htm
10. 'Hard Working'-chair by Walking-Chair in collaboration with fashion designer Daniel Kroh, manufactured by Kohlmaier; exhibition 'At Your Service' at Technischen Museum Wien, 23 March 2012 - March 2013.
fashion.at/culture/2012/atyourservice3-2012.htm
Teaser: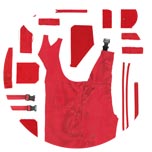 Work trousers incorporated into chairs Designer Daniel Kroh recycles work wear into tailored suits - and furniture; such as the red chairs at the Technisches Museum Wien...
Source: Original article with images on http://www.fashionoffice.org/survey/2012/austrianfashion12-2012.htm.

more fashion.at/mobile>

News from
November 2012
October 2012
September 2012
August 2012
July 2012
June 2012
May 2012
April 2012
March 2012
February 2012
January 2012

subscribe
terms
imprint
(C) Sawetz, since 1996