Merry Christmas & Happy New Year
by Karin Sawetz, publisher of Fashionoffice, 22 December 2012
Step forwards!
2013 will be built on the experiences we made in 2012 and the former years. At Fashionoffice, we will continue to explore the circumstances and conditions for publishing editorial content online. In Austria (the base of Fashionoffice, users from 144 countries), we have learned from the 1930ies that media can heat fires. The detection of possible fire hearts is on the schedule of the education Communication Science, Media at the University of Vienna where the owners of Fashionoffice finished their studies. The statistical measurement tools (which deliver anonymous data) on Fashionoffice are part of this exploration. In 2013, the NPO/NGO Fashionoffice will pursue the researches on computer-networks and I hope that our creativity is good enough to design always new, unexpected investigations.
The whole system of our society (which becomes each year better 'linked' and thanks to online media, the understanding between countries and cultures grows constantly) is currently in re-evaluation progress. Money, prestige and material goods are not out of fashion. But today's society wishes enough money for everybody worldwide, prestige for the ones who live responsible life, and fair produced sustainable material goods.

Yes, material goods for everybody! Or have you ever thought Fashionoffice is voting for something else? Fashionoffice is a fashion magazine!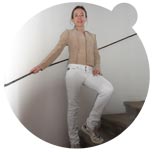 fig. original: The image shows me in sand-colored natural leather jacket by Maison Martin Margiela from the collaborative H&M collection, white jeans by G-Star, and white sport shoes by Salomon.
Source: Original article with image on http://www.fashionoffice.org/survey/2012/karinsawetz12-2012.htm.

more fashion.at/mobile>

News from
November 2012
October 2012
September 2012
August 2012
July 2012
June 2012
May 2012
April 2012
March 2012
February 2012
January 2012

subscribe
terms
imprint
(C) Sawetz, since 1996