The Trendletter is adjusted for mobile phones! You can subscribe.

March 2012 - II: Wordplays; Cyclists; Makeup;...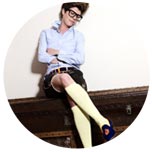 Belt 'Le Peitsch' by Sunshine The label by the Austrian Anna Sunshine Sigl presents pieces like handmade slippers or belt which carry names like Le Peitsch (transl. 'The Whip')...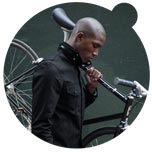 Fashion for cyclists ...presented by Levi's. The 'Commuter'-collection SS2012 will be available also in bicycle stores like at 'FixDich – Track Bike Boutique' in Vienna...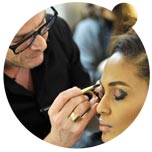 'Paris by Night'-look by Tom Pecheux Estée Lauder's Creative Makeup Director focuses for the Anthony Vaccarello FW2012/13 runway look on the eyes...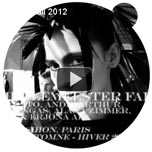 Ford Models at Ann Demeulemeester The fashion magazine of the model agency Ford Models is alongside to Style.com or MSN.com...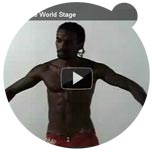 Kehinde Wiley's portraits ...of men in sportive urban wear in posings and/or decorations that reference the history of the culture around are on view at the Jewish Museum...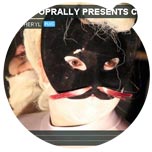 Interactive dance party ...by the art collective CHERYL at the PopRally at MoMA, New York on occasion of the retrospective 'Cindy Sherman'. Changing identities...

Selected SHORT MESSAGES (from the FashionFeeds; available even on twitter.com/byFASHIONOFFICE):
7 March - ACTA-petition to European Commission President José-Manuel Barroso and the European Court of Justice
7 March - #Music: dance-electro-pop 'Houseboat Babies' by US band Reptar from the debut album 'Body Faucet' (1 May 2012, Vagrant Records)
6 March - #Music: Rolling Stone streams exclusively 'Young Lust' by Pink Floyd from 'The Wall: Immersion Edition'
5 March - Stars like #actress Milla Jovovich, #model Clara Paget in fashion pieces from the 'Marni at H&M' collection in #Hollywood
5 March - #Music video by Black Dog Films for Unkle's 'Another Night Out' feat. Mark Lanegan
4 March - #Jewellery: 10 rings that remember 10 relationships in 10 years with 10 stories; seen at the exhibition 'Wohoooh' in Bangkok (until 21 March)
4 March - #Music free download 'Night Swim' by Amon Tobin on amontobin.com
3 March - #Fashionoffice circulation in February: Netherlands 13,64%; Austria 13,21%; United States 12,28%; Germany 11,21%; Italy 10,98%; France 8,16%; United Kingdom 6,60%;...
2 March - #Fashion (#shoe) video in 30ies dance musical style on occasion of the exhibition 'Louis Vuitton - Marc Jacobs' in Paris (9 Mar -16 Sept)
2 March - #ParisFashionWeek report: Tim Blanks introduces into FW2012/13 by British #fashion #designer Gareth Pugh and speaks with Rick Owens...
1 March - Making of Givenchy's music video with Liv Tyler singing 'Need You Tonight' by INXS
1 March - #Music: new single 'You're Early' by 2:54 (London based Colette and Hannah Thurlow)
Imprint (C) Sawetz, since 1996