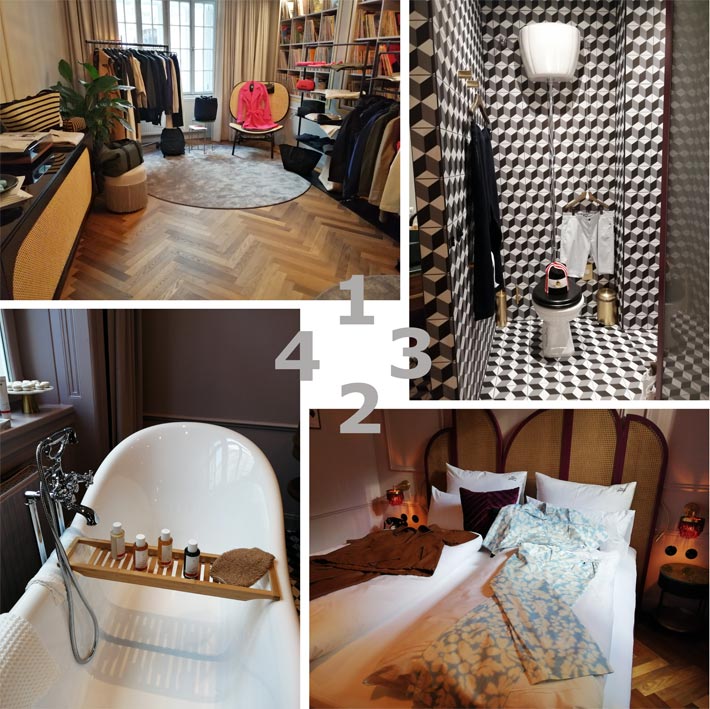 11 November 2021

Insights into the Austrian Press Days in the Phonothek and guest rooms of the new Hotel Josefine in Vienna
1
Every press agency has its own style for the presentation of its clients' new and upcoming products. At the new Hotel Josefine (article), international brands like Bogner, Colmar or Ecoalf were presented prominently in the Art Déco inspired rooms. At the hotel's Phonothek, the Ecoalf collections for the upcoming Spring/Summer 2022 were on view in two rooms. Coral is one of the signature colors of the range of men's, women's and unisex models in classical, basic cuts from t-shirts, sweaters to outdoor jackets in modern sailor outfit style which are matching, like the color coral, the Ecoalf mission of cleaning the oceans and using recycled waste for the making of new clothes.

2
Bogner Spring/Summer 2022 is elegant and sporty with a portion of the German label's special glam. A glam which is never too loud but always present. Highlights presented on the first day (9 November) of the Austrian Press Days were the pyjamas with white florals on sky-blue, cloud-like print and the leather combination of wide skirt-trousers with top in sweater cut.
3
The Bogner men's wear was styled with beanies of the Austrian brand Eisbär, the official outfitter of the Austrian Ski Team.

4
In another suite, the latest models of sunglasses by brands like Victoria Beckham, Yves Saint Laurent, Gucci,... from the range of the optician chain 'United Optics' and cosmetics by 'Dr. Hauschka' were tried on and tested by visitors of the Austrian Press Days.

Fashion.at at the Austrian Press Days: