BALL GUIDE 2009/10
fashion by Sportalm, Stendhal, Aubade, Diesel, Falke
Vienna Insight by Karin Sawetz
About Vienna's ball scenery: The annual 'Hunters-Ball' (Jägerball) is one of the most polarising ball events in Vienna because people don't make a difference between the ones who hunt to brag and the others who hunt to make sport that supports at the same time the forester's care for the forest and its animals. By the way: both, neither the bragger nor the sport-hunter is allowed to shoot more or other animals than the forester permits and the hunting law (it secures healthy forests) allows. The ones who don't like braggers nor sport-hunters, can choose between many other festive dance parties such as the 'Candy-Ball' (Bonbonball) or the 'Coffeemakers-Ball' (Kaffeesiederball).
How to dress up for the 'Hunters-Ball'
The 'Hunters-Ball' was one of my first and definitely funniest balls I ever have attended. As a 17 years old girl in the 80ies I was in my 'New Wave'-phase and had very artful colored hair in green, red and orange.
The 'Hunters-Ball'-style was completely different to my normal style and so dressing up was not as easy as it looks on the picture below. The first step: the hair. Although - this was easy! Peter Savic who started his hair styling career in Vienna and worked later for the American Vogue in US, for Madonna's video 'Vogue' where you can see his hands making her curls, or Christina Aguilera in 'Moulin Rouge' for whom he created the blond mane, was so excellent to color my hair in a way that the green, red, orange 'flame' become only visible when I had updone my hair. So I decided to wear a braid where the colored parts had been entwisted.
The next step was much more difficult: I had to find a Dirndl that doesn't let me look like a 'Landpomeransche' (Austrian dialect, free translated 'Country-Plant') what means as much as a female person who comes from the country land and knows nothing about modern style. And thirdly: I searched for a Dirndl, that doesn't present my femininity too provoking in a Dirndl-décolleté.

A school fellow had a Dirndl that fitted my needs: no décolleté and dark. I can't remember my shoes - I think I had found a compromise to my boots, but I remember how astonished friends had been at the ball: 'Is that you, Karin? What have you done with your hair?'
In comparison to other balls in Vienna in the 80ies, I keep the 'Hunters-Ball' as the most informal in my memory.
The next 'Jägerball' happens on 25 January 2010. The Ballguide for the City of Vienna announced that from 11th November 2009 on, ball dates etc. will be available in a printed book as well as on the internet www.ballguide.at.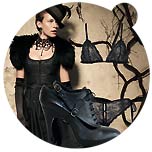 fig. - view the original - clockwise (all items are from the fall/winter 2009/10 collections): Dirndl by Sportalm (photo: (C) Wolfgang Pohn), lingerie from the box '7 Tentations' by Aubade (The black/silver box contains 3 lingerie items and 4 accessories like a mask or a long satin ribbon printed with sensual inscriptions. The box comes with a user manual in form of a card game of 7 cards showing drawings.) tights by Falke, shoes by Diesel, the powderish Elixir Noir by Stendhal (The floral bouquet is spiced with green and fruity notes like cranberrie and red pepper berries; the woody note patchouli makes the Eau de Parfum sensual.)

Karin Sawetz is journalist, media researcher and fashion scientist (Mag. Dr. phil.). > sawetz.com


Source: Original article with images and video on http://www.fashionoffice.org/collections/2009/ballguide11-2009.htm.


more fashion.at/mobile>
News from
September - October 2009
July - August 2009
May - July 2009
April - May 2009
Jan - March 2009
October - December 2008