BEYOND SKIN
spring/summer 2009


The idea of guilt-free shoes
From 18 to 22 September 2009, the UK shoe brand Beyond Skin will present the new spring/summer 2010 collection at the 'Estethica' during London Fashion Week. The company was founded 2001 with the aim to trade in a manner that is kind to humans, animals and wherever possible to the planet. The spring/summer 2010 lookbook opens with the quotation of Mahatma Ghandi: 'Be the change you wish to see in the world'. It shows comfortable wedges with floral prints, retro pumps, flat sandals etc. for evening and day wear. The design is surprisingly classic with a modern touch that remembers partly New Wave style in the tradition of Memphis design. Bold colors and minimalistic lines have the refreshing appeal of a sea breeze. Many of the shoes are made from skin imitations of endangered animals such as the 'faux stingray' on this page (image below).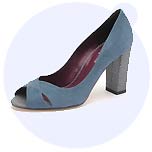 fig.: Santander blue tiny with faux stingray, FW 2009/10. The collections are available online at beyondskin.co.uk and at various stockists worldwide.
"Our mission is to prove that fashion and ethics can go hand in hand!" says Beyond Skin. The label is winner of Peta Best Designer Footwear Award, winner of Grazia Ethical Fashion Entrepreneur Award... to name a few.
Beyond Skin works with factories in Spain and India. The components and fabrics are sourced as locally to the factories as possibe to reduce the 'carbon footprint'. The shoes' synthetic leathers are made from cotton-backed polyurethane. PU (polyurethane) looks like PVC leatherette, but is kinder to the environment.
The label's hero product is a flexible sole of soft natural latex. Shoes with this sole are made in India at a factory that is announced to be soon IFAT certified. The upper material of the shoe is fairly traded organic cotton. In fall 2009, the Anthropologie store on Regents Street (London) offers an exclusive collection made from vintage recycled fabrics sourced from UK Charity Traid ReMade.
In 2010, the footwear brand declares in it's press release that it will introduce "new padded insoles and flexible soles for the most comfy high heels ever". They are really kind to humans!



Source: Original article with image on http://www.fashionoffice.org/collections/2009/beyondskin9-2009.htm.


more fashion.at/mobile>
News from
July - August 2009
May - July 2009
April - May 2009
Jan - March 2009
October - December 2008