DIRK BIKKEMBERGS
fall/winter 2009/10

The pink ribbon trend in male underwear

Male underwear is following one trend consequently: the pink ribbon on male pants. The Belgian designer Dirk Bikkembergs with headquarter in Milan presents for fall/winter 2009/10 a collection of traditional black, white, and grey slips, pants and tank-shirts in cotton knit as well as dynamic looking underwear in bright, contrasting colors like electric blue/vibrating green or cool black/bold pink.
Pink ribbons on male underwear are one of the strongest trends of the last years. Although pink ribbons are strongly connoted with a very female theme, the breast cancer awareness program that goes around the world through October each year to collect money for research and awareness www.pinkribbon.com.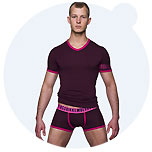 fig.: Dirk Bikkembergs Underwear fall/winter 2009/10. Photo: (C) Black and Light Studios.

On the most masculine clothing piece it serves for a new cheekiness. Pink ribbons on pants at Bikkembergs are for men who are aware of their malehood and don't take traditions too serious - as long as it's about colors for one gender only.
Dirk Bikkembergs (born 1959) is one the famous 'Antwerp Six' who graduated from Antwerp's Royal Academy of Fine Arts in the early eighties together with Walter Van Beirendonck, Ann Demeulemeester, Dries van Noten, Dirk Van Saene, and Marina Yee. On 22 June 2009 Dirk Bikkembergs presented his Sport Couture spring/summer 2010 inspired by artworks of the Australian Scott Elk on the catwalk in Milan. fashionoffice.org/culture/2009/scottelk6-2009.htm

The designer is known for his catwalk presentations that become occasionally 'Street Walk' shows like in February 2009 in Milan where he opened his first flagship store, or more precisely: football player house. Over 100 football players have been running through the streets of Milan, dressed in Dirk Bikkembergs jumpsuits. fashionoffice.org/interior/2009/bikkembergs3-2009.htm
Video youtube.com/watch?v=qeruPl1V8g8: The video shows a Dirk Bikkembergs underwear presentation in September 2008 at the Galeries Lafayette in Berlin. The models appear like a football team in a group. They are not separated such as it normally happens because of traditional linear catwalk choreography. Even the 'catwalk' is not existent in real; the group of men in pants create a virtual one in elevators or on the street only by the fact that they are acting as models in Bikkembergs underwear.
Source: Original article with image and video on http://www.confashion.com/fw2009/bikkembergs10-2009.htm.


more fashion.at/mobile>
News from
July - August 2009
May - July 2009
April - May 2009
Jan - March 2009
October - December 2008