BLICKFANG
16–18 Oct 2009 in Vienna
28 Oct - 1 Nov 2009 Tokyo
20 - 22 Nov 2009 Zurich


Kids and parents zones at Blickfang

The annual Blickfang 'tour-de-fair' starts on 16 October in Vienna at the MAK, Austrian Museum of Applied Arts / Contemporary Art. The furniture, jewellery, and fashion fair runs in Vienna until 18 October. The next stations are Tokyo (28 October - 1 November) and Zurich (20 - 22 November).
The Blickfang in Vienna is traditionally very kid-friendly. At the kids-playzone, parents check-in their kids for getting more freedom at the tour on 3.500 square meters. In 2009, for the first time 8 labels for young fashion and furniture such as 'Pagabei' or 'das möbel' are on show in the special 'design for kids' space. This exhibition space with playground in the kids-zone is made for parents and children to experience together the world of design.
In sum, around 140 designers present new design ideas in Vienna. The fair is at the same time a big design store. Some of the pieces are for direct sale www.blickfang.com.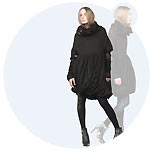 fig.: Piece from the collection 'Breaking the Waves' (2008) by B3. The designers present on the website www.studiob3.pl works on jewellery and clothing from former years, such as the experimental and at the same time very fashionable denim collection 'Joan of Arc - Walk through the Fire with Me' (2007) or the mystical 'While reason sleeps demons wake up' (2005) which remains mystical. The designers don't tell more than 'We design a lot and for many people...' on the website. In a press release, the secret is revealed and at the same time not: the design label 'B3' consists of three designers headquartered in Cracow, Poland, founded in 2006. B3 is available in boutiques in Cracow, Vienna and Paris.
"In each of our collections we prepare a line called "Recycling Fashion". There are so many clothes in the world, which may be re-used as a material for new designs instead of being disposed of. We take some of these "unwanted" clothes and recycle them. It means that we make an outfit using, for example, three or four other pieces from previous collections of various producers. We cut them, dye, print on them, then put together in a different way, creating a new inimitable clothing." B3

Source: Original article with image on http://www.fashionoffice.org/design/2009/blickfang10-2009.htm.


more fashion.at/mobile>
News from
July - August 2009
May - July 2009
April - May 2009
Jan - March 2009
October - December 2008