BLICKFANG
16 - 18 October 2009
at MAK Austrian Museum of Applied Arts / Contemporary Art, Vienna


Design trend: 'human power'
On 16 Oct 2009, the international touring fashion, furniture, and jewellery fair Blickfang opened in Vienna. One trend was elaborated by designers in the last years consequently: environmental friendly design. But this year, they have reached a new stadium. The design products are not made of recycled material only, but mostly enriched by the work of people such as the German military jacket in new fashionable cut and hand-embroidered in India, or in Austria artfully handmade coats and jackets from skydivers' parachutes.
The factor 'human being' and the main role of people's work is the most important difference to the trends of the years before.
fig. on the original article: Designer Katha Harrer and founder of the label km/a presents a jacket made of a parachute of the FW 2009/10 collection. Km/a was one of the first Viennese labels that used extraordinary materials for streetwear. On the label's website, Katha describes herself with things she likes such as 'Handcraft and not mass production. Transverse thinkers and not followers. Points of view and not style.' www.kmamode.com.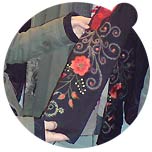 fig.: At the booth of the German label Mayer, one of the Mayer-team shows a re-sewn jacket of former military jackets. The embroidered red birds, blossoms as well as green tendrils in romantic contrast to the rugged cotton had been stitched in India on the recycled fabrics. The collection is complemented by sportive jersey tops, hand-embroidered with old texts from an Indian creation myth.
The hand-craft makes each piece unique. The production process itself is similar to Haute Couture, where each piece is developed from draping on a dummy. The 'organic' cut comes from this draping.
The designer and owner of the label Mayer, Berlin based Christine Mayer (not on the picture left), has started 2006 with the 'Peace' collections. With the purchase of the pieces, the label supports children's help programs. In FW2009/10, Christine Mayer will support an orphanage in India www.mayer-berlin.com.
fig. on the original article: 'Give It Bag', seen at the booth of the Viennese retailer Habari. The shop collects handmade design products from 29 African countries. The 'Give-It-Bag' is made from polypropylene sacks - originally used for rice, coffee - in South Africa www.habari.at.
fig. on the original article: From the same material, polypropylene sacks, are the light objects of Lumineur by Berlin based designer Felix Karow lumineur.com.



Blickfang's next stations are Tokyo (28 October - 1 November) and Zurich (20 - 22 November) www.blickfang.com.

Source: Original article with images on http://www.fashionoffice.org/design/2009/blickfangtour10-2009.htm.


more fashion.at/mobile>
News from
July - August 2009
May - July 2009
April - May 2009
Jan - March 2009
October - December 2008