BURBERRY
spring/summer 2010


The check as mono-chromatic draperies
In September 2009, the British brand Burberry presented the new women's collection for spring/summer 2010 as well as the new limited fragrance edition. Both have two things in common: the classical Burberry-check has transformed into a sculptural mono-chromatic variation that appears as draperies on dresses, skirts, and coats, as well as graphical tone in tone checks on the leather-a-like clothing of the bottles. Creative director Christopher Bailey has named the SS10 collection 'Twisted Classics'. You will find a second similarity to the fragrance: the playful lightness. The iconic trench coat and the typical English reduced silhouettes are awakened to a new playfulness which is expressed through the scent's floral bouquet of grapefruit, mandarin with pink pepper, English roses, musk etc. Burberry has started to release the Original Burberry London fragrances as seasonal limited editions. The bespoken one will hit the stores in October 2009.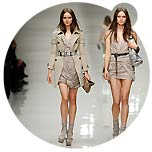 fig.: Burberry Womenswear Spring/Summer 2010 on the catwalk during the London Fashion Week on 22 September 2009.
Video www.youtube.com/watch?v=jyD1JpwgwPk: Catwalk presentation of Burberry's Womenswear Spring/Summer 2010 at the Chelsea College of Art and Design in Westminster during London Fashion Week on 22 September 2009. Burberry has streamed live for the first time directly from the show space in London at live.burberry.com.
Burberry's show closed this year's fashion week. The 25th anniversary of the London Fashion Week was celebrated with a party hosted by Burberry. The event was attended by such illustrious guests like Emma Watson, Anna Wintour, Mario Testino, or Victoria Beckham. At the ground floor showrooms video screens served party-comments from social media sites including Twitter and Facebook; a blogging suite was set up to blog directly from the party.
The track on this video is not originally from the Londoner catwalk; the YouTube-user has commented it with "[ Sorry about audio track ]". Burberry has used following tracks for the show:
Editors - Smokers Outside Hospital Doors (acoustic version)
Fleetwood Mac - Big Love (live version)
Dave Stewart & Mick Jagger - Blind Leading the Blind (live acoustic version)
The Courteeners - Not 19 Forever
About designer Christopher Bailey In October 2005 British designer Christopher Bailey (born in Yorkshire) was awarded "Designer of the Year" at the British Fashion Awards. From 1996-2001 he was the senior designer of womenswear at Gucci in Milan; from 1994 to 1996 womenswear designer at Donna Karan.

Source: Original article with images and video on http://www.confashion.com/ss2010/burberry10-2009.htm.


more fashion.at/mobile>
News from
July - August 2009
May - July 2009
April - May 2009
Jan - March 2009
October - December 2008