Chicks On Speed
& Little Red Riding Hood
fall/winter 2009/10
Art - Fashion - Music

From 1st December 2009 on, the Berlin based conceptual art-design label 'Little Red Riding Hood' by Daniela Görgens will present two scarves from the musicians-performers from Chicks On Speed on littleredridinghood.de.
Chicks On Speed's silk scarves are about "Love, sex and happiness on the go". They are decorated with graphical elements and colourful sequins.
In 1999, Daniela Görgens founded the label 'Little Red Riding Hood'. The name and the concept were inspired by fairytales and stories from different countries and cultures. Daniela Görgens' (born 1973) women's collections are influenced by music, art, and literature. She opened her first concept store in 2004 in Berlin's Friedrichstraße. Little Red Riding Hood has already worked with artists such as Miss le Bomb, popnoname, Gerhard Blum, Anton Unai.
Fashion is one of the fields for expression for the chicks on speed. The band has an own clothing label! In June 2009, they have presented artful fashion inspired instruments such as the high-heeled guitar made of a stiletto and other musical objects developed from fashion accessories. (Wearable sculptural art by Chicks On Speed.)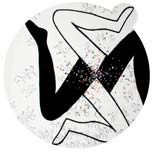 fig.: Chicks On Speed scarf at Little Red Riding Hood from 1st December 2009 on.
Chicks On Speed have worked in fashion, art and music with Karl Lagerfeld, Jean Charles de Castelbajac, Douglas Gordon, Peaches, Amanda Lapore, Jeremy Scott etc.
On 29 May 2009, the female band has released the fifth album 'Cutting the Edge' with tracks such as 'Super Surfer Girl' "to encourage people to be courageous and humorous". chicksonspeed.com.
Video: The 'Theremin Tapestry' by Chicks on Speed is played-danced by Merche Blasco (online since 17 Nov 2009). On 27 November 2009, Chicks On Speed's performance 'The Theremin Tapestry' will premiere at the Kunstverein Wolfsburg. They are working with a technology that was developed from Lev Sergejewitsch Termen (alias Léon Theremin) in Moscow. The 'Theremin' is a pre-synthesizer which is connected to a tapestry. Playing this 'instrument' turns into a dance choreography.
Chicks On Speed: Melissa Logan, Alex Murray-Leslie,
Set Design: Michael Conrads
Choreografie: Kroot Juurak
Kostüme: Peggy Noland, Ari Fish

Source: Original article with image and video on http://www.fashionoffice.org/music/2009/chicksonspeed11-2009.htm.


more fashion.at/mobile>
News from
September - October 2009
July - August 2009
May - July 2009
April - May 2009
Jan - March 2009
October - December 2008