COCKTAIL STYLE
fall/winter 2009/10
fashion by St. Emile, Angel Jackson/www.reyerlooks.com, Humanic/www.shoemanic.com, Juweliere AE Köchert
beauty by Paul Mitchell, Jessica Cosmetics, Clinique
The Cocktail Dress
The cocktail look for fall/winter 2009/10 is inspired by Chris Corner's song 'Nature Of Inviting' from the IAMX album 'Kingdom of Welcome Addiction':
"Cause everything that you are,
is everything that is.
Survive the golden dreams you try to escape from,
...
It's the nature of inviting." myspace.com/iamx
The track remembers melodies of Fad Gadget's electronic New Wave sound. The metallic beats vibrate in a warm, golden light through a dark blue night. Some of the beats shatter into radiating diamonds.
December is the hardest time for the ones who don't like socializing at cocktail parties. Dresses in elegant style, handbags with special decoration, jewellery that glitters are the keywords for the cocktail outfit. It's not easy to find a cocktail dress where you can stay yourself. But the ones who like to attend the party have to follow the clothing rules. That's the nature of inviting!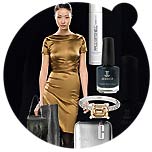 fig.: original from above (the pieces are from the fall/winter collections 2009/10 and/or available in fall 2009)
Metallic golden dress 'Aurora' by St. Emile
Platinum Blonde Shampoo by Paul Mitchell brings glamorous brilliant shine onto blonde, grey or white hair.
The green-blue colored nail lacquer 'Frost at all Cost' by Jessica Cosmetics has a touch of grey.
Ring in white gold with diamonds and brilliants from Juweliere AE Köchert
'Feather and Chain Disco' bag by Angel Jackson; seen at www.reyerlooks.com
Black leather Overknees supersize, seen at www.shoemanic.com
Clinique's fall trend 2009: nudelook on the eye lids, fresh pink on the cheeks, elegant natural color on the lips. Not on the picture but it belongs to this look: the mascara in black for long lashes.

Source: Original article with images on http://www.fashionoffice.org/collections/2009/cocktailstyle11-2009.htm.


more fashion.at/mobile>
News from
September - October 2009
July - August 2009
May - July 2009
April - May 2009
Jan - March 2009
October - December 2008