DINNA SOLIMAN
spring/summer 2010


Going fishing or into the disco; or both?
In October 2009, US designer Dinna Soliman presented two new collections for spring/summer 2010. For her main line 'Dinna Soliman', the designer has taken inspiration from the world of the sea, from fishers and skippers such as realised in the 'Boat Neck' body suits or the 'Lifesaver Dress'. She plays on the aquatic theme with metallic linen, creates a muscle sleeve multi zippered fitted seersucker jacket, or a mermaid wet shiny shirt with a gloss finish tank.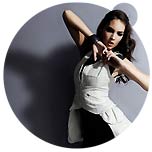 fig.: 'Bait Vest' and 'Zipped Up' zipper legging; Dinna Soliman spring/summer 2010. Photo: Dimitri Hyacinthe.
Dinna Soliman combines in her collection new interpreted, very practical inspired pieces like the fisher's vest with pockets, originally for the bait to attract the fishes, with the classical development of dance wear - the retro-80ies disco-striped legging. Another signature of this collection is the combination of rough material like metallic linen for the vest and elastics like jersey.
In the same month (October 2009), Dinna Soliman has announced an own website for her second line 'Donuts' on www.shopdonuts.com. The concept of the 'Donuts' line follows the pastry: "This beloved pastry is fast, comfort food that is simple and tasty for all ages. The fabrics on this new line are forgiving which allow it suitable for women of many ages and lifestyles." The pastry-inspired pieces are in contrast to the designer's main line very colorful. They are perfectly made for sunny days at the beach and for leisure time in the city.


Dinna Soliman studied at the Fashion Institute of Technology and worked as a designer for a variety of major apparel brands. She launched her debut collection in fall 2008. Recently, WWD have thrown an eye on fashion by Dinna Soliman www.dinnasoliman.com.

Source: Original article with images on http://www.fashionoffice.org/design/2009/dinnasoliman10-2009.htm.


more fashion.at/mobile>
News from
July - August 2009
May - July 2009
April - May 2009
Jan - March 2009
October - December 2008