Fall Style 2009
by Kamik, Luis Trenker, Purisme

Styling tips for the street walk

While the circulating Fashion Circus is presenting the new looks for spring/summer 2010 on its tour through Europe, some of us are questioning 'How to dress up for the current season?'
The Fashion Circus' new trends spring/summer 2010 are influencing our perception of the fall/winter fashion 2009/10 - that's a fact. Lightness, playfulness, comfortable chic, cultural heritage, understatement, and a sense of responsibility are the keywords in fashion that can be found for clothing as well as for the overall behaviour of 'trendy people'. The mix of luxury (recycled or sustainable material enriched with high-tech features) and practical design inspired by workwear and sports has the desired 'certain something' of today's lifestyle.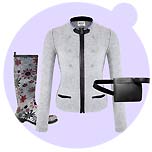 fig.: Fall/Winter 2009/10 trends. Gum boot 'Ellie' by Kamik; knit jacket 'Vroni' by Luis Trenker; bag by Purisme
On the picture above, the gum boot by the Canadian outdoor specialist for extreme climates Kamik is made of 100% natural gum and has a high-tech Wind Pro PolarTec® lining. It looks with its flowerish print on asphalt grey like coming directly from urban gardening. The jacket by the South Tyrolean label Luis Trenker (the label is named after the prominent alpinist and pioneer of mountain films Luis Trenker) is a new city-like interpretation of the traditional clothing from the working peasant population who lived in former centuries in the European Central Alps (France, Italy, Switzerland, Germany, Liechtenstein, Austria to Slovenia). The sportive bag by the Austrian design group Purisme is made of carbon; the high-tech material is normally used for cars or airplanes.
Video http://www.youtube.com/watch?v=Fnyttn4Fxp8: Luis Trenker speaks about his work on the movie 'Sein bester Freund' at the Eiger-Nordwand (released in 1962, starring Olympic ski champion Toni Sailer and Dietmar Schönherr).

Source: Original article with images and video on http://www.fashionoffice.org/collections/2009/fallstyle10-2009.htm.


more fashion.at/mobile>
News from
July - August 2009
May - July 2009
April - May 2009
Jan - March 2009
October - December 2008