FREITAG
fall/winter 2009/10
Future timings influence the present
In November 2010, the Swiss brothers Daniel and Markus Freitag presented the new 'Freitag' calendar 2010 'F26 Marty' made of used truck tarpaulins.
The calendar is described as an imaginative time machine. All products of the designers have a strong time component as they are developed from the idea of sustainability. The designers are proclaiming that "future timings influence the present" and make us think of the movie 'Back to the future' and Marty McFly (starring Michael J. Fox) by naming the calendar 'Marty'.
Freitag is known for 'social bag events' like to create a personal 'Freitag' in October 2008 or recently to perform with a bag at 'Urban Gardening'. The Freitag products are social in a double sense: they are mostly interactive (on the website you can create the models in your own colors or you can interact with the environment directly) and they are environmental friendly (made of used material).
Video: 'Urban Gardening' with the Swiss brothers 'Freitag' at the Walking Chair Gallery walking-chair.com in Vienna. The gallery and the designers invited with this tactical fashion to direct the consciousness towards urban structures from 1 Oct until 31 Dec 2009 during the Vienna Design Week (1 – 11 Oct 2009) viennadesignweek.at. The interview is published by Milan based designboom.com, which covers contemporary industrial design (courses, education, competitions, history and contemporary, shop, interviews, etc.).
In 1993, the graphic designers Markus and Daniel Freitag created their first Messenger Bag made of old car materials. Soon the bags became cult objects – first of all in Zurich, then in Berlin, Vienna, London, Paris, Tokio, New York and Shanghai. Until today, Markus and Daniel have designed more than 30 models and produce since more than ten years bags and accessories made from used materials and found on the road outside your front door: old truck tarpaulins tanned by exhaust fumes, cycle inner tubes and used seat belts, as well as the new resource of used airbags. In 2003 Freitag's classic bag "Top Cat" was collected by the MoMA, New York.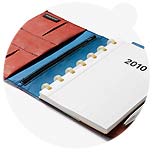 fig.: The calendar 2010 'F26 Marty' is available since 9 November 2009 on freitag.ch.


Source: Original article with image and video on http://www.fashionoffice.org/design/2009/freitag11-2009.htm.


more fashion.at/mobile>
News from
September - October 2009
July - August 2009
May - July 2009
April - May 2009
Jan - March 2009
October - December 2008