inked
fall 2009
Inked denim hangings
On 20th October 2009, the new shop 'inked' for US denim labels opened the doors with a party for fashionistas in the Inner City of Vienna. The presentation of jeans followed the concept of art gallery 'hangings'.
The shop is on the 'Bauernmarkt', a street running parallel to one of the old Roman walls, which is today called the 'Rotenturmstrasse'. This area of the city is the oldest. It has it's asymmetrical map structure (Graben, Tiefer Graben, Rotenturmstrasse...) from the Roman military camp of 15 BC. Read more about on en.wikipedia.org/wiki/Vindobona.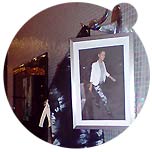 fig.: 'inked' denim store, Bauernmarkt 15, Vienna; opening party on 20 October 2009.
Today, the Bauernmarkt has developed a lively fashion scene, from the hair dresser 'Michael Danler', over the retailer of international brands 'Don Gil', to the shop of 'Firis' who features designers like Alexander Wang, Dries van Noten, Ann Demeulemester. At the beginning of the Bauernmarkt, right after the corner to one other interesting place, the 'Hoher Markt' where some streets further emperor Marcus Aurelius (remember the first scenes of the movie 'Gladiator' with Richard Harris in the role of Aurelius) died in the year 180, the new shop 'inked' opened on a 146 square meters space designed by the architects of 'archiguards'.
Shop owner is jurist Nicole Doleh, who has worked after her study in the fashion business such as for Prada Austria. Additionally, she has studied at Parsons in New York. For her shop, she collects the US denim labels Current Elliott, Kain Label, Earnest Sewn, Lauren Moshi, etc.
'inked' had been even most of the jeans at the 'inked'-store opening fashion party on 20th October 2009; not only the ones that were hanging on the walls beneath computer screens and on the illustrating photos. Some early birds have worn the 'inked' jeans already on this evening.

Source: Original article with images on http://www.fashionoffice.org/collections/2009/inked10-2009.htm.


more fashion.at/mobile>
News from
July - August 2009
May - July 2009
April - May 2009
Jan - March 2009
October - December 2008