IVANAhelsinki
spring/summer 2010

"There is only a thin line between being lonely or free"
...writes Helsinki based designer Paola Ivana Suhonen as an insert into the movie to the new spring/summer 2010 collection 'Leaving Circus' of her label 'Ivana Helsinki'. The collection premiered at the Copenhagen Fashion Week on 8 August 2009. Paola is the creative part of the label Ivana Helsinki which she runs with her older sister Pirjo.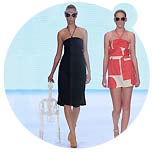 fig.: IVANAhelsinki spring/summer 2010
Ivana Helsinki's fashion brings together Slavic melancholy and Scandinavian moods. Paola Ivana Suhonen is the artist behind the collections that are inspired by northern legends and western romantics, by the balance between white arctic summer nights and endless winter sadness. This season it is a story about a girl in the desert with a ghost horse. The textile prints as well as the clothing - mainly dresses, are inspired from the story about loneliness and freedom.
"Leaving Circus
Lonely girl and her ghost horse…
....leaving, left, leftover, lonely or just free?
The circus is behind; is it the end or beginning of something new."
The movie ends with the words: "There is only a thin line between being lonely or free"
For the SS2010 pieces, Paola has created horse prints and graphics that work with the short film. She has named the prints 'Leaving Circus', 'What a Circus', 'Ghost Horse', and 'Dot'. Visit Ivana Helsinki's mystical website www.ivanahelsinki.com.
Video youtube.com/watch?v=nyQyjtpqKo4: 'Leaving Circus' short film (super 16mm, color negative, shot in Chihuahua desert, Texas) by fashion and art label Ivana Helsinki for the spring/summer 2010 collection. The music track 'Stallion' comes from Brooklyn based singer/songwriter Alexa Wilding who had a lot of press in the last months such as in the New York Post or Nylonmag.com. "The irony is that she has never ridden a horse, she is afraid of the water and she grew up in a city." is written in the article "Alexa Wilding @ Rockwood Music Hall, New York – August 8, 2009" in Greenshoelace.com about the singer/songwriter. On her website www.alexawilding.com you will find news and a music playlist.


Articles about Ivana Helsinki:
IVANAhelsinki fall/winter 2009/10 'Star Rain' collection fashionoffice.org/design/2009/ivanahelsinki3-2009.htm

IVANAhelsinki spring/summer 2009 'Hello Tiger' collection fashionoffice.org/design/2008/ivanahelsinki8-2008.htm
IVANAhelsinki fall/winter 2008/9 'BirdRing' collection fashionoffice.org/design/2008/ivanahelsinki2-2008.htm
IVANAhelsinki spring/summer 2008 'Diamond, Stripes and Revolver' collection fashionoffice.org/design/2007/ivanahelsinki8-2007.htm
IVANAhelsinki fal/winter 2007/8 'Fasan' collection fashionoffice.org/design/2007/ivanahelsinki6-2007.htm
Source: Original article with image and video on http://www.confashion.com/ss2010/ivanahelsinki9-2009.htm.


more fashion.at/mobile>
News from
July - August 2009
May - July 2009
April - May 2009
Jan - March 2009
October - December 2008