JEROEN VAN TUYL
spring/summer 2010


Fashion inspired by 'Manitou'
Jeroen van Tuyl presented his spring/summer 2010 collection during the Paris Men's fashion week in June 2009 not on the catwalk but as a performance with the title 'Manitou'.
The Rotterdam (NL) based designer has been working on a reinvention of the man's body in the last years. After 'Men Machine' (presented in 2006), 'Robiator' (SS 2005), or 'Transformer' (SS 2007), Jeroen van Tuyl began to work on cultural themes like religion and poetics in the most recent seasons. In SS 2009 he presented 'Tagore', inspired by the well known Indian poet. For SS 2010, it is 'Manitou', the 'Great Spirit' of the Native Americans that influences the designer.
Jeroen van Tuyl, whose mother is from Suriname, a former Dutch colony with a large group of Indous (or Hindoestanen are Indian natives), grabs the inspirations from his roots.
The Manitou collection is influenced by the Native Americans' respect for nature, the special way of decoration and the high level of craftsmanship. You will find fabrics such as cotton, poplin and jersey, wool, linen, canvas and suède in black, brown, beige, grey, white, bordeaux and salmon.
Jeroen van Tuyl translates the straight lines and shapes from traditional Indian costume into elegant male suits www.jeroenvantuyl.com.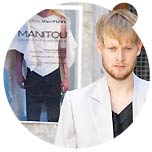 fig.: Jeroen van Tuyl, Spring/Summer 2010. Photo: (C) Peter Stigter.

More information about the graduate from the Arnhem Institute for the Arts and interview with Jeroen van Tuyl about the spring/summer 2009 collection "Tagore" (Tagore is a well known Indian poet), religion, Indian clothing tradition... on fashionoffice.org/design/2008/jeroenvantuyl11-2008.htm.



Source: Original article with images on http://www.fashionoffice.org/design/2009/jeroenvantuyl9-2009.htm.


more fashion.at/mobile>
News from
July - August 2009
May - July 2009
April - May 2009
Jan - March 2009
October - December 2008