Kazuyo Sejima
Director of the 12th International Architecture Exhibition in 2010
29 August - 21 November 2010
La Biennale di Venezia
A Japanese architect on assessing the Zeitgeist

In November 2009, La Biennale di Venezia announced that the Japanese born (1956) Kazuyo Sejima will be the director of next year's International Architecture Exhibition in Venice. Kazuyo Sejima - she is the first woman to direct the architecture sector of the Biennale, has in this position specific responsibility for curating the exhibition.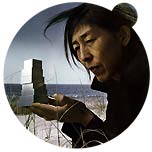 fig.: Portrait Kazuyo Sejima
"She is an architect who uses the maximum simplicity to link the material and the abstract," Japanese architect Toyo Ito about Kazuyo Sejima
Kazuyo SejimaIn, who has a degree in architecture from the Japan Women's University, has designed contemporary architecture for Christian Dior (Christian Dior Building in Omotesando/Tokyo), the New Museum of Contemporary Art in New York or the Serpentine Pavilion in London. In 2000, she was the curator for the Japanese Pavilion, called 'City of Girls', at the 7th International Architecture Exhibition of the Biennale di Venezia. Kazuyo Sejima has taught at Princeton University and at the Polytechnique de Lausanne. She is currently a lecturer at Keio University.
Kazuyo Sejima about her ideas for the next Biennale:
"We are now well into the 21st Century. We can take this opportunity to step back and assess the zeitgeist of now through the process of the Biennale. This can clarify contemporary essentials of architecture and the importance of new relationships as we step into the future. One potent point of departure could be the boundaries and adaptation of space. This might include the removal of boundaries, as well as their clarification. Any part of architecture's inherent multiplicity of adjacencies can become a topic. It might be argued that contemporary architecture is a rethinking and perhaps softening of those borders.
inside and outside
individual and public
program and form (form and function)
physical and virtual
contemporary and classical
past and future
harmony and discord
structure partition
art and architecture
nature and man
Perhaps the oxymoron can represent a productive new paradigm; can these binaries (intersections of public/private, global/local, artificial/natural, monumental/mundane, complex/simple, symbolic/pragmatic, fake/authentic, active/passive, thickness/thinness) lead to a duality capable of blurring these boundaries? How can the unexpected interdependency of extraordinary spaces create a communal/symbiotic dialogue between adjacencies? Equally, there is another thread of interest; people in architecture, human encounters in both public and private scenarios, both as creators and users. This is an issue of individual life in interplay with the community. It may be as simple as 'people meet in architecture.' In its totality the Biennale can both a new and active forum for contemporary ideas as well as a close reading of buildings themselves."
Video: Toledo Museum of Art Glass Pavilion by architect Kazuyo Sejima (completed 2006). The music for the video comes from 'Tortoise', song 'Glass Museum'.

Source: Original article with image and video on http://www.fashionoffice.org/interior/2009/kazuyosejima11-2009.htm.


more fashion.at/mobile>
News from
September - October 2009
July - August 2009
May - July 2009
April - May 2009
Jan - March 2009
October - December 2008