LA REDOUTE
fall/winter 2009/10


The democratisation of high fashion
For fall/winter 2009/10, the French couture shooting stars Michel Klein and Alexis Mabille have created some pieces for the online shop La Redoute. Around 50 designers elaborate each season new collections for the French headquartered shop La Redoute which has distribution channels in 24 countries. Alongside to the own collections by the 50 designer creative team, La Redoute invites each season since 1969 prominent designers like Christian Lacroix, Karl Lagerfeld, Yves Saint Laurent, Courrèges etc with the aim to democratise fashion and the ready-to-wear products of the French Haute Couturiers.
Michel Klein
This season, La Redoute re-invited Michel Klein, who has already worked for the homeshopper in 1993. The China-look inspired jacket is one of the legendary products of this collaboration.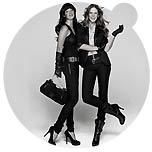 fig.: Michel Klein's collection of slim pants, tailored jackets, t-shirts with boots, booties, high heel pumps, matching bags and gloves has a rock'n'roll appeal for female bikers.

Alexis Mabille
31 year's old Alexis Mabille is the second shooting star in La Redoute's design portfolio for FW9/10. Alexis Mabille's collection is in contrast - on the first view - very feminine with a romantic, soft touch. Trousers with higher waist enhance the female figure, a male inspired shirt of cotton-piqué gets a fresh, innocent look through the white or rosé coloring.
For the extravagant, voluminous evening robes the former student at Ungaro, Nina Ricci who had also worked for John Galliano and Hedi Slimane at Christian Dior, lengthens a shirt on the widest point of the hip with a voluminous skirt. This dramatic change of the shirt's 'male plot' on the most female part of a woman's body evokes the thrilling, new sexiness of the robe. Alexis Mabille who creates own unisex-collections, ready-to-wear, and couture for men and women premiered in January 2008 at the Haute Couture shows. With the robe (image on this page) he seems to tell a story about the construction of today's 'women'.
The collections by Michel Klein and Alexis Mabille are available since July 2009 on www.laredoute.com.
Collections by fresh talents
Additionally, La Redoute selects fresh talents to design some pieces, such as Gaspard Yurkievich for SS2006 fashionoffice.org/collections/2006/laredoute1-2006c.htm.

(By the way: Gaspard Yurkievich released for FW9/10 an own collection about 'Nostalgia' with folk images; read the article about fashion, music, hair, make up at Gaspard Yurkievich FW9/10 gaspardyurkievich2-2009.php.)
Bio line
Since 2003, La Redoute offers bio-collections, since 2005 Fairtrade-products. On occasion of the World Environment Day on 5th June 2009, the homeshop La Redoute presented t-shirts for women and men, created by the La Redoute employees themselves laredoute6-2009.php.

Source: Original article with images on http://www.fashionoffice.org/collections/2009/laredoute8-2009.htm.


more fashion.at/mobile>
News from
May - July 2009
April - May 2009
Jan - March 2009
October - December 2008