LEVI's
spring/summer 2010
Free your Mind and Speak up
In October 2009, the US jeans label Levi's presents the new spring/summer 2010 collection under the motto "Free your Mind and Speak up" inspired by the late 60ies student protests at the California University Berkeley.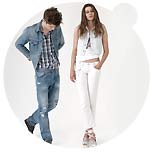 fig.: Levi's spring/summer 2010
The collection focuses on two themes: unisex plays with the new definition of the sexes; androgyny is practiced as vice-versa dressing and becomes in this collection (such as wide male pieces for women or fragile silhouettes for men) an act against clichés.
White is the most important color in Levi's spring/summer 2010 collection and stands for 'New Beginning'. Like a white sheet of paper where it's up to you to fill it with your thoughts or to leave your individual traces on the white denims and shirts. For Levi's, real freedom lies in the lightness of being oneself.


Video: Documentary about the events from 18 Nov 2009 to 20 Nov 2009. Students, workers, and faculty staff demonstrate against the budget cuttings at UC Berkeley. The video was posted on 23 Nov 2009.
Protests against the cutting of budget for social issues have mobilized in November 2009 students in Austria, Germany, but also in US, California. In Austria students went together with workers and kindergarten teachers to the streets. Humorous slogans such as 'Rich Parents for All' brought their motivation to the point: the gap between rich and poor grew drastically in the last years. But the initiatives of the politicians remain the same: they are supporting the rich such as banks instead of investing into social structures for better education and health systems.

Source: Original article with images and video on http://www.confashion.com/ss2010/levis11-2009.htm.


more fashion.at/mobile>
News from
September - October 2009
July - August 2009
May - July 2009
April - May 2009
Jan - March 2009
October - December 2008