LIE SANG BONG
spring/summer 2010
Korean design on time and gravity
Korean designer Lie Sang Bong presented his new spring/summer 2010 collection with the title 'Gravity Walk' at the Musée d'Art Moderne in Paris.
"The Lie Sang Bong took place among artworks at the Museum of Modern Art. The collection was at home in this setting....a work of art in it's own right! Notice the fantastic sculptured-metal dresses, bustiers, and headpieces! made out of real metal ... now that's fashionable heavy metal!" writes an eye witness about his impression from the Lie Sang Bong catwalk in an email to Fashionoffice.
"One good thing about being a fashion designer is that you can live in different ages" says Lie Sang Bong who has a theatrical background. He approaches fashion with a poetic view that is influenced from the 1930s film noir heroines, the Imperial love affair between emperor Napoleon & his empress Josephine, to personal Korean poetry/calligraphy, and science fiction.
The designer started his career with the collection 'The Reincarnation' in 1993 at the Seoul Fashion Week (Korea). A few years later he was voted 'the best designer of the year' by the mayor of Seoul. In 2002, he premiered at Paris Fashion Week with the collection entitled 'The Time'. Today, Lie Sang Bong represents a new generation of designers belonging to the Paris fashion scene. He combines the historic elements of Korea with French fashion from different time periods and express his own individual vision of the world of fashion.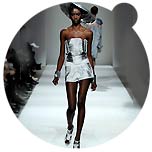 fig.: Lie Sang Bong spring/summer 2010 on the catwalk during the Paris Fashion Week on 1st October 2009 at the Musée d'Art Moderne in Paris.
For spring/summer 2010, Lie Sang Bong conquers time and space. He takes his inspiration from a science fiction novel that is focusing on humanity. It plays on a planet without water, where people are awaiting the new messiah. Frank Herbert's science fiction novel 'Dune' from 1965 had been later adapted for the film by David Lynch in 1984. One family in this book - the good one, comes from the noble house 'Atreides'. The potential messiah 'Kwisatz Haderach' who has the mental power to bridge space and time is re-incarnated in Paul Atreides. (Watch the scene from David Lynch's 'Dune'.)

The woman of the collection is described as 'the woman', a descendant of 'The Atreides' from the planet Dune. Her clothes are sculptured as elegant-minimalistic silhouettes in the colors of the planet: the earth tone sand is mixed with metallics for tunic-dresses, re-interpreted safari jackets and trench-capes.
Video: Lie Sang Bong's collection presentations from several years. The title of the video is 'Hangeul - Beautiful Korean Language by Fashion designer Lie Sang-bong'. (Hangul or Hangeul is the native alphabet of the Korean language).

Source: Original article with images and video on http://www.confashion.com/ss2010/liesangbong11-2009.htm.


more fashion.at/mobile>
News from
September - October 2009
July - August 2009
May - July 2009
April - May 2009
Jan - March 2009
October - December 2008