LILA PIX
winter 2009/10

Dreaming and the perception of reality

On 18th and 19th December 2009, the Viennese designer Lili Ploskova invited to cookies and glühwein (hot wine) at the showroom 'Lila Pix' in the Lindengasse. The 'Lila Pix' showroom hosts selected clothing pieces, hats, shoes, and jewellery from European designers like Bitten Stetter (DE - read the interview with the German designer about Collecting fashion in a chronological classification), Eva Kim Heu (AT), Zweti Alexieva (BG), Gina Drewes (AT), to name a few.
The invitation shows a picture of a stole with a golden print. Fashionoffice asked Lili Ploskova about the golden print and its meaning. The golden printed words are from William Shakespeare's Sonnet 43. The designer has chosen the beginning of Shakespeare's Sonnet about the perception of reality and dreaming:
When most I wink, then do mine eyes best see,
For all the day they view things unrespected;
But when I sleep, in dreams they look on thee,
And darkly bright are bright in dark directed.

Read the whole text on en.wikipedia.org/wiki/Sonnet_43.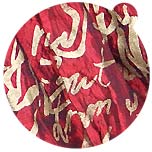 fig.: detail from the original image Leather bag and aubergine colored silk stole with golden printed words from William Shakespeare's Sonnet 43 by the designer Lili Ploskova aka Lila Pix. Both pieces are exclusively available at the store Lila Pix.
Lili Ploskova, the founder of the showroom Lila Pix, is a graduate of the University of Applied Arts Vienna (painting, illustration). Soon after her studies in 2002, she has launched her label Lila Pix and presented her designs in the following years at the Blickfang, Vienna Design Week, Vienna Fashion Week, and Modepalast. She has already worked with Swarovski, MAK Designshop, Galerie V&V, and Gina Drewes Couture. Since 2007, Lili Ploskova creates silk and leather accessories and presents them at the own showroom.
fig.: original image Lila Pix showroom in the Lindengasse 5, Vienna.

Source: Original article with images on http://www.fashionoffice.org/design/2009/lilapix12-2009.htm.


more fashion.at/mobile>
News from
November - December 2009
September - October 2009
July - August 2009
May - July 2009
April - May 2009
Jan - March 2009
October - December 2008