Ecko by Marc Eckō
fall 2009
What are men's dreams?
In October 2009, the New York based entertainment and fashion allrounder Marc Ecko launched 'Ecko', his first fragrance for men.
Marc Ecko is a specialist for youth culture - and for men's dreams. He calls his fragrance for its opening with icy cool notes of Ginger and Citrus a "wake up call". Shots of Cognac/Absinthe brings a warm sensuality with hallucinatory allure. But this is the only warm element in the description of Marc Ecko's fragrance. Everything at Ecko centers on the word 'cool'. Even the base notes like Energized Musk and Tonka Beans make that the coolness holds on.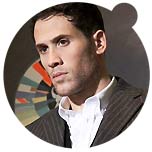 fig.: Portrait Marc Ecko
Marc Ecko shows on his extensive website www.marcecko.com the products of his entertainment and fashion companies. The collections of sneakers and watches, Ecko cut & sew, eckoTV, Ecko for iGoogle, Car Culture... are proving that Marc Ecko is true when he says "My story is an American Dream. A journey from painting T-shirts in my garage to this! I pinch myself to make sure I'm not dreaming. Life is unlimited." The style world of Marc Ecko is the one of a boy who has materialized his imagination of being a cool man.

In the early 1990ies, Marc Ecko launched a clothing line with six t-shirt designs and a can of spray paint. 15 years later, Marc Ecko Enterprises includes a dozen lines of clothing and accessories along with Complex magazine, Complex.com and a videogame and multimedia division. Marc Ecko Entertainment is a full-service production company with a focus on interactive entertainment and videogames.

Chairman and CEO Neil Katz has selected Marc Ecko for the prominent portfolio of Parlux Fragrances. The company holds licenses of fragrances from Jessica Simpson, Kanye West, Paris Hilton, Queen Latifah, or Rihanna... to name a few.
Neil Katz says: "With the Marc Ecko addition to our fragrance portfolio, Parlux Fragrances, Inc. will reach youthful male consumers with this first launch: Young men who are hip, trending fashion-forward and looking for the unexpected in their personal fragrance statement." According to Marc Ecko, "I am always about the unconventional. But with this first fragrance, there's no doubt I plan to take men - and the women that love them - out of their comfort zone."
Video: Backstage scenes, interview with Marc Ecko on occasion of his first men's fragrance 'Ecko' by the Harlem/New York based 'Uptown Magazine'. On its website, the magazine looks behind-the-scenes, guides through stylish restaurants, bars, hotels, etc. and entertains with editorial videos. The magazine has installed an additional channel on YouTube with a selection of reports like an interview with model Brent Zachery or the 'Travel Girl' in Marrakesh taking a belly dancer lesson... www.youtube.com/user/uptownlifedotnet.
Source: Original article with image and video on http://www.beautyme.com/fragrance/2009/marcecko10-2009.htm.


more fashion.at/mobile>
News from
July - August 2009
May - July 2009
April - May 2009
Jan - March 2009
October - December 2008